Specter Flux
(?)Community Member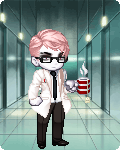 Posted: Mon, 05 May 2008 03:30:15 +0000
SO, WHAT'S UP NOW?
For a long time we've been speculating about Timmy, his parasite, and exactly what's going to happen at the prom. We've predicted infection. We've predicted fatality. We've predicted disaster. Now is the time for our suspicions to be disproved - or verified.

Join us for the time of your life.
-- Specter Flux, who has "[far] too much time on [his] hands."
This thread is dedicated to the study of Timmy, Dr. Singh's lovable/irritating companion. No matter what it takes, this
tabloid reporter
conspiracy theorist will find the truth about what's happening.
Oh yeah. Other people help too.
heart
Timmy tends to evolve every
Thursday
Friday now, since that's when the evolution updates usually are. Unlike most evolving items, Timmy evolves every update, without skipping any. He began evolving after Dr. Singh shut him into a barrel filled with green sludge.
Image by Rei Yami Hikari
Contents
Parasite Theory
Specific Parasite Theories
Other Theories
Been There, Done That
Links In
Links Out
Thread Hall of Fame
Awards
Sci-Fi Team
Data
The Gene Mystery
History
05|04|08
Since there's no telling if the Alaric Martin account's ever going to be freed from the banning imposed by the [very broken] anti-botting script, a new thread was formed. You're looking at it.
3|07|08
Been There, Done That section was formed, at the request of Serving_God_Forever. Also, Singh said "parasite." Whoot!
2|28|08
Sci-Fi Team was formed. Lol. Also,

I was

we were totally right about mind control.
2|14|08
This thread opened. We needed more room. May the old one rest in peace. Links should be updated.
1|25|08
The first TRUTH About TIMMY thread was formed.