Bellecoso
(?)Community Member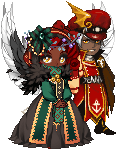 Posted: Fri, 23 Nov 2012 08:26:58 +0000
List last updated: November 29, 7:10 PM PST (SDPlus #348 Jabberwock added)
wahmbulance wahmbulance wahmbulance Has ANYBODY uncovered Loyal or Ginoverseer in the Gold Boxes yet? wahmbulance wahmbulance wahmbulance
wahmbulance wahmbulance wahmbulance They're the only Announcement Dolls still MIA! wahmbulance wahmbulance wahmbulance

So, our black Friday exclusives have come out. A recolor of Pale Marionette, Ultra Satan for our adorable evil desire to own, and...
What's
this
?

An SDPlus GOLD Blind Box?
Quote:
This box contains a random *rare* doll from the Gaia Character Collection
(from the regular SDPlus blind box only)

*Black Friday sale exclusive*
But what makes a doll
rare
, I wonder?
Will there be exclusives?
Will there be gold-colored versions of some of our favorite dolls?
Sorry Cressy! No gold statue for you!
Will anyone have the guts to even buy one?
Curious...
If anyone dares purchase and open, please, let me know what you find inside!
SDPlus Dolls confirmed:
Announcement Confirmed Dolls:

SDPlus #166 Ginoverseer

SDPlus #220 The Ringmaster

SDPlus #272 Majoko Mariko
[Also User Confirmed]

SDPlus #325 Wendy
[Also User Confirmed]

SDPlus #346 Thea the Unicorn Spirit
[Also User Confirmed]
gaia_diamond
5 confirmed | Most expensive Doll listed

SDPlus #351 Mad Hatter
[Also User Confirmed]

SDPlus #401 Keiko
[Also User Confirmed]
The Announcement does
NOT
show ALL of the dolls! Keep your eyes peeled!
User Confirmed Dolls:

SDPlus #099 Kanoko

SDPlus #143 Ciro

SDPlus #290 Pepper and Mint

SDPlus #310 Lady Alzbeta

SDPlus #315 Caretaker Tia

SDPlus #339 Hex the Spider Spirit

SDPlus #348 Jabberwock

SDPlus #362 Fallen Star

SDPlus #364 Sainte Ciel

SDPlus #365 Princess Rosamund

SDPlus #368 Dice
SDPlus #377 Frankie

SDPlus #378 The Hazmats Hana

SDPlus #380 The Hazmats Butterfly

SDPlus #387 New Waves Czar

SDPlus #391 Hi-Rez

SDPlus #392 Ctrl + Zee

SDPlus #396 Sweet Streets Rina

SDPlus #405 Kricket

SDPlus #408 Bloody Mary

SDPlus #409 Irwin

SDPlus #412 Nessie

SDPlus #414 Ylaipi
Quote:
A huge
CONGRATULATIONS
to the user Miss Ayalah for some extraordinary luck with these Gold Boxes!
She has scored Ylaipi, Kanoko, and Thea in an amazing chain of luck and been a great help with confirming these dolls!
Go buy a lotto ticket, Miss Ayalah! You are by far the luckiest person in this thread so far!! Absolutely amazing!
Good luck everyone!!
gaia_spoons
gaia_spoons
gaia_spoons
gaia_spoons
gaia_spoons
gaia_spoons
Gold Box: Yay or Nay?
gaia_spoons
$50 for a gamble? Is Gaia going too far?
gaia_spoons
Speculation on what's inside?
gaia_spoons
Gold Cresento Doll?
gaia_spoons
Several users struck big. The weekend is over! Do you think the doll you seek will drop down to your reach?
gaia_spoons
Any dolls you are disappointed in not seeing?
gaia_spoons
Any dolls that baffle you why they're in the box?
gaia_spoons
Specialty SD Plus Blind Boxes a good idea in the future?
Threadmaster Achievement! Thank you everyone!!