Slick Southpaw
(?)Community Member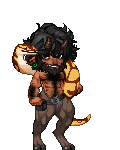 Posted: Wed, 15 Jan 2014 00:38:21 +0000

LONG LIVE THE SHADOWY FUGITIVE!




Join the cause today by picking up Nyx' sacred symbol




Evil is back in town, and this time he's sporting some awesome hoofwear and scales. Or is he?
Meet Nyx, the scapegoat deity, a god so feared that it is said that the goddess Gaia had cast him into the void.
ACTUALLY, IT'S CALLED DISPROPORTIONATE PUNISHMENT

He has a loose connection into Gaia, brought forth by Lucas as an aspiring vessel. It is currently unknown exactly
how the Don came into the possession of the summoning ritual,
nor is is known why he was locked up.
Of course, if you ask the dark elf midget, he might have his own theories.






Agents from Gaians in Black (GIB) have their own suspicions and theories, but this thread is here to lavish praises and fears and speculations upon the dark god known as Nyx.

What are his plans? Will he rise from beyond, like Voldemort and Sauron,
striking the lands of the living with pestilence and despair for those who dare to oppose him?

Or is he simply misunderstood by all and this is merely a petty strife between the divine?
What do his cult followers look like?
Why was he locked away instead of being made mortal, like Overseer and Sentinel were?

Will this become a trope of "ugly" verses "beautiful"?






These and many more theories will be explored, and amended as Gaia continues this saga.

art by Bowie-Spawan



INTRODUCTION | CONFIRMED INFORMATION | THEORIES + SPECULATION | ADDITIONAL RESEARCH | F.A.Q. | SACRED SCRIPTS + SYMBOLS | WORSHIPPER'S WARDROBE | CULT MEMBERS | JOIN THE CULT | LINKS OUT