Jong Kook
(?)Community Member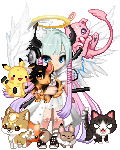 Posted: Fri, 26 Jul 2013 03:28:57 +0000
_Mya_Kohler_
It does seem like all the really cool items gaia comes out with are crazy expensive. v.v I did like that rare pet rig that came out during the sale a few weeks ago, but I didn't have the cash to get it and I wasn't willing to go out and buy that much cash, even though I really want that black wolf! And, Lobo, too. I have the white one.

My avi is suppose to be a werewolf, but, sadly, I'm limited as to what items I can use for ears and tails. I do have the Bad Moon, but the ears with the wigs can be kind of annoying at times. The tails are nice and I use the white one for when I do a white werewolf.
Ye, popular items normally remain exclusive.
Ahh... please don't remind me. I had a mental breakdown when I saw the Summer Sale. I bought Cery long before when it was still 17m and Nochi years back when she was 18m. So much gold/effort lost... and both were earned from over a year of questing and not spending on any items, except presents to friends. orz

I thought you were more Vampire-ish than Werewolf-ish, even though your tag title had that.