Lithium Blossom
(?)Community Member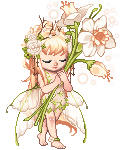 Posted: Mon, 08 Oct 2012 15:10:53 +0000
So, I've been debating on whether or not to make this thread or not and after a long time debating on whether to or not, I decided to go right ahead. This is mostly just me being curious since we know that Don Kuro has hired vampires to kill off the Gods of Gaia. We know that some have succeeded, like Zhivago killing off Meili.

Now my question, how many have been killed that we don't know of? And if there has been a great many killed, how does that affect the world of Gaia? I mean is there some sort of balance that the gods have to keep so Gaia doesn't implode on itself, or are they just there to oversee the world and don't have any connection whatsoever?

Or does Gaia herself have the power to revive her fallen gods? She is powerful enough to take away Overseer and Sen's power after all. So could she snap her fingers and 'poof' Meili's back again?

She has to know something of what's going on with the gods if they're being killed off one by one. And my question is, do you think she'll do anything about, especially if this does upset the balance since there are no gods to perform their duties? Or are the others picking up the slack so that if there is a balance, it is relatively safe?