Ridley Starsmore
(?)Community Member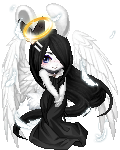 Posted: Fri, 05 Oct 2012 01:04:15 +0000
So, after a rather long and exhausting day involving yearly inspections, yearly exterminators, and big monthly grocery trip, plus getting everything in the kitchen back in order, finally got a chance to just sit down and do what I do best.
Speculate about EIs!
While I'm not expecting much past the Halloween REI to move up the scale, I am hoping as always for a bunny evolution!
But I'll get more into that here in a moment...
LET'S GET STARTED!!!
bunnies > cats
TRUE FACT!
Artist:

milkbun
Release Date: May 18, 2012
Evolution Type: Long term
Original Cost: 99GC
Status: Active (Aug 10, 2012)
*

Bunnihilation
Secondary item(If any):
* None at this time
Link to item fanthread:
- No Current Owner
First up, in the great tradition of the Owl, I present to you this week's HUNGOVER BUNNY:

"Because Budweiser is piss, that's why."
I sure hope someone picks up that phone. Because I called it! bunny got ignored.
Again.
Seriously, this is getting old.
Like, really old.
Like, 'people forget it's still evolving' old.
A man who seeks revenge, will be consumed by it.
Artist: Unknown. Please contact me if you know who the artist is with proof.
Release Date: Sep 28, 2012
Evolution Type: Rapid
Original Cost: 499GC
Status: Active (Sep 28, 2012)
*

Antipathy
Secondary item(If any):
* None at this time
Link to item fanthread:
- Run by Winter Hue
So, this year's Halloween REI is...actually creepy!
I LOVE IT!
The summoning circle, the blood at the neck...It's a nice change from all the cute stuff we usually get. So I'mma roll with it.
I'm thinking some demonic accessories.
So awesome we got a nice an creepy REI for once.
I'm so happy.
I'd love it more if it was a Jack-o-lantern REI, but this will suffice.
And again, not expecting a darn thing out of Bunny, but it has a habit of evolving when we least expect it. So, who knows.
Keep an eye out at between 5 and 6 pm Pacific time zone on Friday for the EI Report! And stay tuned for the seventh evolution and FINALE of Paint Shaker!
- Bunni: ...WHY NO BUNNIES?!
- Antipathy: HOLY CARP SO CREEPY!
- SUGGEST A NEW EI! Tell the staff what you truly wanna see!
And now...
Bunneh got a hold of an animation program. This is why we can't have nice things.
Artist:
Ridley Starsmore
Release Date: Aug 24, 2012
Evolution Type: Enhanced Rapid
Original Cost: 999GC
Status: Completed (Oct 04, 2012)
*
Paint Shaker
Secondary item(If any):
* Each Evolution corresponds to a page of the Master Evolving Item List!
Well, you folks voted it in, and here it is, the seventh Evolution of the Paint Shaker! Tune in Every week for new poses, and the Side Story for each pose! This week, the evo is for page SEVEN AND EIGHT of the Master EI List!
Sainte Ciel: Agape Sleeves of Purity- Fresh as new fallen Snow
Sainte Ciel: Eros Green with Envy- jealousy is an odd color on you
Custom Cut: Blues Scarf- Hard to be down, when you look this good.
Prince Of The Sea: Shadow Mermaid's Ponytail- What, she's the evil twin.
Ravenwood Manor: Lost in the Forest- The deep woods can be a scary place.
Runcible Spoon: Pussycat Sister's Eyes, and While Gold Promise Ring- White gold is in fashion, right?
Trilune's Covenant: Sky blue Maiden Dress- Soft as a summer breeze.
Silver Bells: White Kitten Ears, Purple Bow, and Tabby Bell- Tabby Bell loves to play, but missed the others last Christmas.
Gary's Island Adventure: Dried Palm hat- To match that one outfit Gary found in a giftbox that washed up.
Daughter of Snows: Sweet as Candy Top and Skirt- Winter can be a sweet time.
Rosamund's Revenge: Royal Purple Roses- No Agape needed!
Modus Operandi: Piper meets Jack- A fusion of evil!
S-Pop Club: Dark Arm Jackets- Easier to MATCH.
Petit Cherie: Sweetest gazes- That look of longing
Bunnihilation: Valentines Bunderroos- Bunnies can be sexy.
Keiko's Cake: Mary Janes, and Buttercream/Mint Frosting Stalkings- The perfect topping to any outfit!
Lady Jayne and the Mummy: That Mighty Fine Hat!- It is a might fine hat.
All-Star Cheer: The Girls have lives outside cheers- That's it. name sats it all.
Band of Bremen: The Experimental Black Album- The Death Metal Years were awesome.
Antipathy: Summoning Circle Alone- Because Skulls are heavy.
Paint Shaker's Final Evolution: Finishing Touches- A recolored pose from many recolored items, Including A Nightmare-like pony, a Cheshire Tail and much more! As well as a Visit from Dr. Singh!
HA! Knew I could surprise you guys! One massive evolution for all the folks that have been following this for the past 7 weeks, and I was gonna drag it out...but I thought you folks deserved better. Now, as it turns out, I am not gonna be able to do another EI any time soon, because of the holiday season starting up and me being a retail bunny. But I hope this makes up for that a little. and remember, if you have your own EI or REI you want to Submit for the EI Chat, drop me a line here on Gaia!
Oh, and for you folks wanting the final Stats and links to each evo..:
Evolution 1
= 14 poses
Evolution 2
= 15 poses
Evolution 3
= 21 poses
Evolution 4
= 23 poses
Evolution 5
= 23 poses
Evolution 6
= 35 poses
Evolution 7
= 24 poses
Evolution Finale
= 40 poses
Total Poses=
195 poses