Hassli
(?)Community Member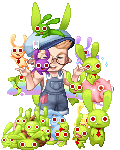 Friendly Friend
6,050 Points
100
Posted: Sun, 24 Nov 2013 23:34:01 +0000



Hi. Hello and hi. Hey. How are you? Hi. Good. Howdy. Nice
seeing you. Hello. Welcome.

Did you know Gaia has a lot of fan-clubs for NPCs? This is true,
I have seen it. This is the D-Party. It is like a fan club, but also
a fun club. We are a group of President Diedrich supporters.
Our mission is to keep Diedrich in Office indefinitely. Also,
it is our mission to party! Everybody likes a party!

You might be seeing on the TV the news people talking about
which old white guy or which lady person will be president in
two years. We are lucky on Gaia because we already know
the answer. It will be Diedrich. It's a fact. We need to begin
our campaign right now to have the advantage on ourselves, or
clone, or whatever come 2016. Diedrich's victory will be
ensured because we will run on the same platform we did four
years ago.


Health: I am for it. Everyone should do a health.
Taxes: We will take some money from people (not too much).
National Security: I can lift over forty times my own body weight.
Social Issues: Everyone gets to kiss whoever they want, as long as it's OK.
Dogs: Big ones yes, little yapper dogs... we'll see.


It's a good platform, right? The voters chose it in 2012 and not
much has changed. Making it good.

Here is the secret plan for 2016. If you are not a Diedrich
supporter please do not click this spoiler. It is for Diedrich
Supporters only. Card Carrying D-Party Members may look.
ONLY. Don't look because it's super secret.


GOOD PLAN, RIGHT?! Get the swing vote!

Now you might be thinking, "How do I become a member of
the D-Party?" Well, it is very easy, my friend! Anybody can be
a member of the D-Party! You just got to show up! You don't
have to bring anything. All we need you to do is give unending
lifetime support to Diedrich which you pretty much have done
anyway, you know, since he's president!

So yeah! You should stay and you should join our party. We're
sure to have some party favors and some party games that you
can play. Isn't politics fun?!

Thank you for your time and support. The one-party system is a
success!

Ok! Good bye now! Bye-bye. I love you, buh-bye. Thank you
for this. Really, bye, thank you. Thank you so much. Goodbye.
Goodbye now. I will see you later. Thank you. Bye bye. See
you later. OK, bye. Thank you. Goodbye and thank you.

Bye-bye.