Six Mekhane
(?)Community Member
Posted: Fri, 26 Jul 2013 00:34:26 +0000
Has anyone else gotten this PM?

EDIT 2: SISKY SAYS ITS OK TO BUY ON A MULE
((Proof))
siskataya
Six Mekhane
AMG SISKY
Can we go on a mule that's a GC virgin and buy cash there to take advantage of the bonus, even though we've already purchased GC on our main? Or would that be considered abuse? I have bought GC before on some of my mules, out of convenience, with no problem--but this offer didn't exist before.
I want to buy a Hoarfrost and take advantage of this, but I also do not want to get banned. >_>
Thanks for asking! We won't be banning anyone for using the offer if the offer was sent to a mule, as long as they are a legitimate account owner. That was offered to you, even if on another account, so are free to claim it if you so desire.
admin
If you haven't bought Gaia Cash before, now's a great time to try it out! As a special, limited-time treat for first-time Gaia Cash customers, we'll include a
Teal Bonus Box
with your first Cash purchase of $5 or more. When you open the Bonus Box, you'll get a choice of three fantastic free items: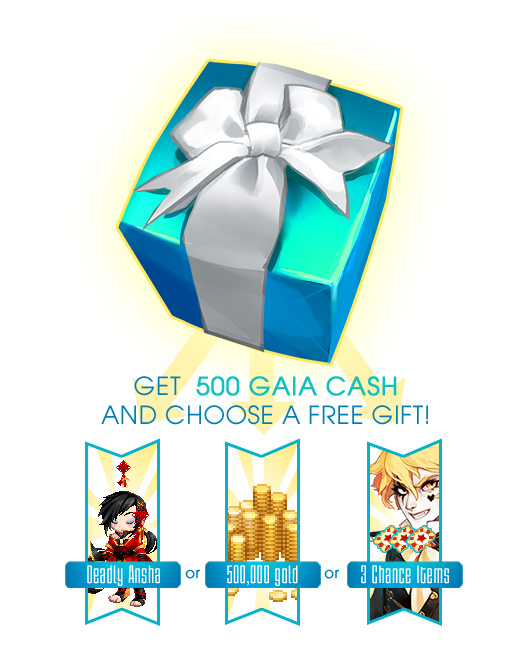 The
Deadly Ansha
item, which originally retailed for $4.99 in the Cash Shop.
A whopping 500,000 Gaia Gold, which you can throw about however you please in the Gaia Marketplace or Gold Shops.
Three Chance Items, which will each give you a shot at some of the rarest and most coveted items on Gaia!
So, want to double the value of your very first Cash purchase? There are plenty of simple and convenient ways to stock up on Gaia Cash: