meep12345
(?)Community Member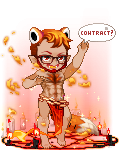 Manly Man-Lover
19,600 Points
200
Posted: Fri, 26 Jul 2013 12:43:40 +0000
Soubi-chu
♥ ♥

I noticed that today too. Well, it's not really anything bad
to me. In fact, if you want to try and sell things, it is a smart
idea. It's not like people are forced to click it.

People will b***h about it, I'm sure. Because God forbid it's
a minor change and everyone has to go into hysterics about
it. Seriously, it's a business. If you want to try and push a
certain item or thing.. you have the right to do it in little ways
like this.

If anything, I'm sure the real super bitchers can just ad-block
it or something. rolleyes
the rats in the c e l l a r you know who you are
Well, isn't Gaia trying to tell us they're not money-grubbing-whatevers?
cat_rolleyes
I mean, this sort of undermines that if you read through the general opinions of Gaians that have posted in this thread since you did yourself... And while I agree that nobody is forced to click on CV/LV, anymore than they're expected to buy from it, why is it necessary to force us onto them then? Personally, I don't think it is smart idea, and more of a deterrent/thorn in the side, and I kind of liken it to that of a Youtube ad, where you have to wait those extra seconds to by pass it before getting to what you really want to watch (except in our case, those extra seconds it to scroll to/click into the shop we want to get to; Although we had to still do that before, the randomness of the landing meant there did not have the feel that they were pushing the gCa$h's upon Gaians, plus you also still had a chance you might land on the shop you wanted to go to).
I personally, I don't care about the reordering in the bar as much as I miss the former randomness of where you landed
cat_sad
But also think it is unrealistic for us to ignore the larger repurcussions that so-called "minor" changes can have
cat_neutral
Also, aside from the sparkles on CV/LV, which are definitely another sore point for many Gaians, how is Ad Block really an effective solution in this situation?
cat_rolleyes