Fractale
(?)Community Member
Posted: Fri, 28 Sep 2012 09:47:58 +0000
Would it? Would saving the planet from whatever potential thread Kuro's undoubtedly going to unleash be putting one side on the nice list? Or would the vamps get naughty-listed for trying to intervene in Luca's grand plans for a perfect, new world where all races are treated equally,
for the sake of his sister, Martel
mother? (Anyone else reminded of Mithos, from Tales of Symphonia?)
Just picturing Zhivagho looking in his stocking on Xmas morn and raging about how he got coal fills me with the warmest holiday merriment that no eggnog could rival.
Now I know many of you are thinking "Hey, Frac! It's too early to start dreaming of white Xmas'es and jingling those bells! Get your undead butt back in Halloween and help us kick some vampire/ elven a**!" And while I offer the dark elves my emotional support (I know that won't help them, but still; it counts ), I'm staying away from the frontlines of this event and looking forward to Xmas. I'm just not interested in another Halloween with vampires (or without Jack), so onward to Xmas!
I'm going to be a good lil' Glompie so Santa will come and give me presents! He always forgets to fill my stocking every year. I don't even get a lousy lump of coal... emo
I've seen quite a few Gaians wondering where our conclusion to the 2011 Old Pete Xmas was, and why we never got it, so I wouldn't mind seeing that; maybe made into another lost manga, like the Lost manga prom conclusion they did a few years back. Getting to see NPC Turkey (boy, she was so cute!) and NPC Nippers return might be interesting, since they last showed up in 2010.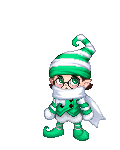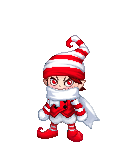 I'm also curious if S-Corp is still operational. Or if there'll be a garage sale gold shop update loaded with recolors of old items. The Young Mrs Claus set would look stunning in green or blue.
heart
However, what i want to see most is an X-mas being taken over by a certain Labtech.
Uncle Haijin
3.) Is there any chance of a Labtech X X-mas event or just X in anything anytime soon?