Meromictic
(?)Site Moderator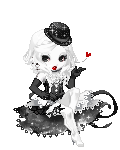 Divine Senshi
25,650 Points
100

100
Posted: Thu, 06 Jun 2013 02:02:10 +0000
Narumi talking about it being tomorrow
For examples you can see them in the CB.
Narumi Misuhara
Promote my Post is a feature that will let you pay some gcash to make your post stand out more in the forum listing. It changes the background/design of the bar that your thread title sits in.
So while absently listening to the monthly update, I heard DJ mention something about promote my post. @about 4:08 for those that don't want to hear anything else but really all he says is the name.

WTF is this and why haven't I heard of it? I know I'm behind on stuff but PMP sounds hilarious.

If there was a way to include an 'I' in there somehow...

ANYWAYS

What do you think this new feature will be like? I think it will be helpful in places like art shops and Q&A and such. Like for Q&A if there was a bug flying around and a lot of people were asking the same question, if there was a post that did a decent job answering, it could then be promoted.

But honestly I'm not sure how/where the promotions are going. I wish they had the spotlight back on the front page though because some of those threads were interesting.
Spoons
Guys, I'm serious. We need to find a way to get that 'I' in there.
icily idealistically identically idiosyncratically idiotically idly idolisingly idolizingly ignorantly ill-humoredly ill-naturedly ill-temperedly illegibly illiberally illogically illuminatedly illustratively imaginatively imbalancedly imitatively immaculately immaturely immeasurably immediately immensely immoderately immodestly immovably immutably impalpably impartially impassively impatiently impeccably impededly imperatively imperceptibly imperfectly imperiously impersonally impertinently imperturbably impetuously impiously impishly implacably implausibly impliably implicitly imploringly impolitely importantly importunately importunely imposingly impotently imprecisely impressedly impressionably impressively improbably improperly improvidently improvisationally imprudently impudently impulsively impurely inaccurately inadequately inadvertently inanely inappropriately inaptly inarticulately inattentively inaudibly inauspiciously incapably incautiously incessantly incestuously incidentally inclusively incoherently incompetently incompletely incompliantly incomprehendingly incomprehensibly inconceivably inconclusively incongrously inconsequentially inconsequently inconsiderately inconsistently inconsolably inconspicuously inconveniently incoordinately incorrectly incorrigibly increasingly incredibly incredulously incrementally incurably incuriously indebtedly indecently indecisively indecorously indefinately indefinitely indelicately independently indeterminedly indicatively indifferently indignantly indirectly indiscernibly indiscreetly indiscriminately indiscriminatingly indistinctly individually indivisibly indolently indulgently industrially industriously inebriatedly ineffectively ineffectually inelegantly ineloquently ineptly inevitably inexactly inexcusably inexorably inexperiencedly inexpertly inexplicably inexpressively infatuatedly infectiously inflexibly influentially informally informatively infrequently infuriatingly ingeniously ingenuously ingratiatingly inhalingly inharmoniously inhospitably inhumanely inhumanly inimically iniquitously initially injudiciously injuredly innocently innocuously inoffensively inopportunely inordinately inquiringly inquisitively insanely insatiably inscrutably insecurely insensibly insensitively insidiously insightfully insignificantly insincerely insinuatingly insipidly insistently insolently insouciantly inspiredly inspiringly instantaneously instantly instead instinctively instinctually instructively insubordinately insubstantially insufferably insufficiently insultedly insultingly intangibly intangily intelligently intelligibly intemperately intensely intentionally intently interestedly interestingly interminably intermittently internally interrogatively intimately intimidatedly intimidatingly intolerantly intoxicatedly intoxicatingly intractably intransigently intrepidly intricately intriguedly intriguingly introductorily introspectively introvertedly intrusively intuitively inutilely invasively invectively inventively invigoratedly invigoratingly invitingly involuntarily inward inwardly inwards irascibly irately irenically irksomely ironhandedly ironically irrationally irregularly irrelevantly irreligiously irrepressibly irresistibly irresolutely irresponsibly irreverently irrevocably irritably irritatedly irritatingly isolatedly itchily