meep12345
(?)Community Member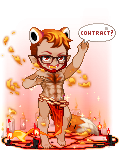 Philosophizing Cat
20,200 Points
200
Posted: Tue, 01 May 2012 19:01:42 +0000
- Why do you hit the ignore button?
Number one reason is, sadly, Neo-Nazism... Seriously, I have ignored so many Neo-Nazis on Gaia that I just ended up leaving the Politics forum to never look back... Made me realize just how messed up the ED really is
cat_xp
- Do you think people ignore people for petty reasons?
Generally, no, but... Then again... A lot Gaians in Heaven have this tendency when it comes to things like not liking the art of a certain RIG on the grounds that it isn't your tastes
cat_rolleyes
(Yes, some Heaven dwelling Gaian added me to their ignore list simply because I thought the Underland RIG art was, well, sub par...
cat_lol
)...
- Have you ever ignored someone for something you think might have been a little silly?
Probably, but I usually go through my ignore list every so often (about once a season) to reconfirm why the people on the list are even, well, on the list... I often find that I either stop ignoring several people or I realize its been awhile since I've added anyone (one of the perks of the GCD, I suppose, is hardly find the need to ignore others...
cat_3nodding
)...
- Have you ever been ignored?
Yup
cat_3nodding
- If so for what reason?
Let's see... Telling others that Black People are Human, Women deserve Rights, I'm Gay, Neo-Nazism is Wrong, Pragmatism is how children do philosophy, there is no Yaoi on Gaia, Zodiacal is piece of overpriced/inaccurate/overrated shite, PETA is awesome, etc, etc... Yup, I'm probably on a lot of people's ignore list... I think...
cat_rolleyes
- What do you think about the concept of white/black lists?
Part of me thinks its Racist (White = Good, Black = Bad... Hrm...
cat_confused
) and the other part of me thinks its (hetero)Sexist in a Yin Yang sense (White = Masculine, dominant, Good, Black = Feminine, submissive, bad... Ugh...
cat_stare
). Too be fair, I really like only one Liszt
cat_lol
- Anything else you want to add?
Vampires. Eating. Cheese. Hot. Dang.
cat_burning_eyes