Lithium Blossom
(?)Community Member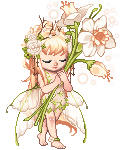 Posted: Tue, 02 Apr 2013 03:29:55 +0000
So after logging off and getting onto my mule account, I logged back in to find that lovely little red number that indicated we had a
Gaia blog update
. Normally, I just click and go on with my business, but this one caught my interest! It's an NPC story contest run by users! There have been past contests I haven't been aware of that are kinda user-run, but this certainly looks like something that would be great and fun to do! I think this is a great opportunity to create our own wacky stories along with some great dramas, especially with the Halloween event from last year.
I know NPC development has been something some users have been asking about for a long time. Is this the way you imagined to be even though it's user-run? I mean sure it's not the artists expanding on what the stories are, but at least we're getting some love, right? Do you believe this should become an official contest or should it stay the way it is? Do you think these stories/comics can be counted as canon or is just everyday fanfiction that doesn't actually count? But what do you think, GCD, will these stories affect our community and story lines eventually, or will they just stay there for our amusement?
It's finally open!
Head here to participate!