Jayce Reinhardt
(?)Community Member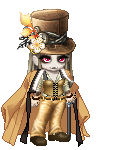 Posted: Thu, 13 Oct 2005 04:57:02 +0000
This Fanthread is Dead, Thank you for everything
Quote:
A little about our favorite NPC
Ian
(Barton):
His store
Ian's birthday is November 27th.
- Wants to learn backflips
- Is a pinball wizard
- Hopes he can still remember how to use the register
- Has a million pairs of underwear in the Japanese undies vending machines Daily Chance
- Is popular with the ladies AND men
- Is a bit clumsy
- Is not superstitious
- Owns a pair of Bunny Slippers
- Had to be the Easter Bunny in 2004
- Had to be in charge of Easter 2k9 alongside Rufus
- Does not enjoy being the Easter Bunny
- Dancey-dancey!
- Was the the 2008 dance champ along with Rufus
- Spent a Christmas with Ruby and Peyo
- Does not like Johnny Gambino
- Gives Leon bargains in Barton Boutique (store discount: be Leon?)
- Admitted his love for Sasha during his trial
- Was shot and almost killed right after said trial
- Was jealous of Gino, because Sasha seemed to like him better
-Was almost killed by Gino because Gino was jealous of Ian.
- Went with Ruby and Louie to the prom
- Believes that one's education is one's future
- Thinks Edmund is a great guy and doesn't afraid of anything
- Does not like the smell of fish
- Is an expert at finding seashells
- Likes to stab bread
- Has fangs that can only sometimes be seen
- Does not seem to understand that the best time to show someone something is not when they are in a house that is burning down
- Knows the Interrupting Cow/Kayne joke
- Loves living in Barton
-
Lives right across from Ian's Bar and Grill
- Considers himself really lucky.
- Drools in his sleep
- Ian once shared his shop with Christian Siriano for the Gaia Prom in 2008.
- Is a sexy beast!
Most Information provided by Dreigan-H2O