Meromictic
(?)Site Moderator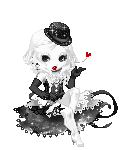 Divine Senshi
25,650 Points
100

100
Posted: Tue, 02 Apr 2013 22:12:30 +0000
So recently my friends and I found out that a game we play has a minimum age limit of 21. After talking about it, we realized that it did make sense considering the content found within the game.
On Gaia, there has been plenty of discussion on if certain items should be removed and there have been avatar resets and bans for how some items have been used. Its more than just items though.
In forums like Lifestyle Discussions, people have to toe around certain subjects because the more specific you get with your sex life, the more of a chance a warning is headed your way. To start with, should threads like that even be allowed if the site's youngest members are thirteen? My school started sex ed in the 5th grade. So I can see how some of that would fly.
Should we have guilds and threads dedicated to pregnancy support? I mean, most people would be in shock if they found out that a 13 year old was pregnant. Why would the site then allow threads that had discussions on this that talked about the positives and negatives? It might influence these kids into doing something.
Another example would be the fact that we have support groups for things like BDSM. Something that you have to be at least 18 to even participate in. That's five years over the age set by Gaia. And to go with that, there are plenty of threads in the CB that have control situations in the title. Not to mention role plays that involve this. The same goes for the pregnancy topic.
Added to all of this, is of course the items on this site. The favorite examples would be the alcohol, smoking, and the weapons. Of course, we also have items that show plenty of skin. For example, in Zodiacal we have an item that removes the bra and only the hair covers the boobs. Because that's totally appropriate for someone that's 13 years old.
But instead of warnings, bans, and removing these items, why not just change the age limit? That way, everyone keeps their items and those users that no longer meet the limit will only have to wait a few years before they can get them again. It would allow the artists more freedom in what they can design and give users more freedom in how their avatars look and what content they post in the threads. I seriously doubt we have a large population of the younger teens anyways. Most of the users I meet are either in their late teen or early twenties.
Spoons
Anyone else see the GOT season premier?
Why is it that people wear those electronic cigarettes around their neck like it is in fashion?
How upset are you that the bacon flavored scope was just a joke?
Just for you guys, I left the <3</3 open :D
*
Disclaimer: None of this reflects the user's views or opinions. Points were created for discussion.