Pengaana
(?)Community Member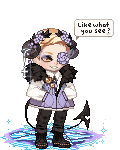 Posted: Tue, 24 Apr 2012 02:06:51 +0000
According to this ATA Mecha Neko may not stay after this FMA thing is over
or it may be converted to something else

If it was done away with it seems like
a lot of work to just "throw away" gonk
biglanky14
MistressMinako
- Will we be seeing more anime sponsorships? Is the new store going to be used for anything other than a cash shop double? Will we be getting knock-off items outside of RIGs/official sponsorships?
4) It's definitely possible you could see more anime partnerships. As for the new store, I'm not entirely sure. It might go away, or we might find a use for it after FMA is done.
quote on this page
Also I gotta find the quote but if the shop continues being a sponsor shop it will always be region locked according to the region lock that the sponsor has.
edit:
I found it
DJ Helsing
One Who is Not Loved
Not sure if this was asked already or not, but...

Will the new shop, Mecha Neko, be staying around in the future?
Or was it just made exclusively for the FMA item because of the restrictions?
And, if it will be used, will it have only official anime sponsored items, or any kind of anime knock off items?
We are currently workin with various companies to try to bring you more official anime branded items from your favorite anime series. Unfortunately some of the companies only have the legal right to distribute merchandise in the us. In these situations we will be using Mecha Neko to distribute them.