meep12345
(?)Community Member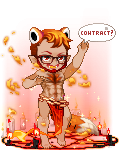 Manly Man-Lover
19,600 Points
200
Posted: Sat, 31 Dec 2011 03:01:18 +0000
Lucritiamise
meep12345
Do you guys do it or not?

Sometimes, but... It usually doesn't last... I mean, I can go days on end with the same avi, but there are times when I'm changing my avi less then every 5mins too... So... It varies and cluttered ones usually don't last as long as I anticipate them to cat_rolleyes

Do you all like to see it?

Of course! cat_4laugh
I mean, I love seeing cluttered, not cluttered, and "WTF, mate, is that!?" avis all the time! cat_xd
Great for inspiration, reminding me why I bought, or need to buy, a certain item, etc, cat_wink

Does it annoy you to no end?

I use to be annoyed by certain items, but then I stopped going into the GD altogether cat_lol
Seriously, I used to loathe any avi that had the buckteeth and or that beer/fat gut/belly item, because it was usually the first sign that the user was probably a troll cat_xp
But... Now, well, I just realize bad looking avatars do exist, to be examples of what I should not do (kind of like little fashion faux pas reminders). Personally, I'm just grateful that the gorier ones are too cluttered (or too dark) to be recognizable and that bugs are not popular among, well, GCDrs and Heavenfolk cat_3nodding
Me too. I get this feeling that I need to change an av, even if just one pose or adding an item. It's frustrating.
Yes! It certainly helps. I'm like "Oh look! That item! I finally know the name of it. ~goes to buy~" When I see a cluttered avatar.
They exist in the dark corners of Gaia. As you said, GD. ~shivers~ It scares me. Why did you mention it?
gonk
I like to do demonic/dark avatars, but not too cluttered. Ruins the mystery and power to it.
I'm sorry, I didn't mean to mention it... I just, I just remember when you could go there and, you know, talk about things, just things and not... I'm so sorry
emotion_facepalm
... However, glad to know I'm not the only one who is able to see the usefulness of cluttered avis!
cat_xd