Bannable 0ffense
(?)Community Member
Posted: Thu, 25 Oct 2012 23:38:01 +0000
New item is out:
Please quote me if I'm missing an item.
Hellspawn Faction

HoC: Death Dealer

Hoc: Zerakyl

HoC: Thrice Cursed Legion
Flameborn Faction

HoC: Dragoneye Savant

HoC: Wyrmtail Sage

HoC: Keljana
Avalon Faction

HoC: Eldwyn the Bright

HoC: Kolyr Godslayer

HoC: Gray Mage
Guide


HoC: Battlemaster
Hearlds of Chaos has come to Gaia! Click below to dress up as a member of your favorite faction!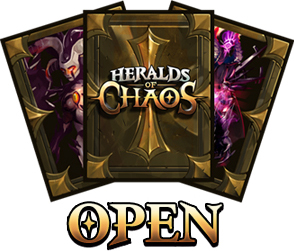 HoC
oh Gaia!
Can YOU spot what's wrong with these images?



VS

These items are not from the deck, but from previous CIs:
It appears that someone pulled a Succubus Zivva, so it seems that these items are also available to win from the deck.

HoC: Knight of Horizon

HoC: Succubus Zivva
What do you guys think?
Love it/hate it? Favorite items?
Which faction is your favorite
in the game
?
Have you played the game yet?
What items would you have liked to have seen in this deck?
HoC Deck II anyone???? What would be in it?