Jayce Reinhardt
(?)Community Member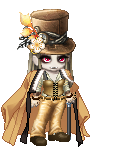 Posted: Thu, 14 Oct 2010 03:26:54 +0000
A new Chance Item has emerged
Azrael is recruiting captains for his infernal crew, so if you love awesome prizes more than tax law you can help lead his escape. Battle against guards and monsters on Azrael's road to freedom and he'll reward you with a Cash Shop favorite, valuable rarity or one of his diabolical exclusives.
Topic questions
(
Please try to keep on topic so this thread is not moved
)
- What expectations do you have about this Rig?
- What is your favorite item from it so far?
- Do you think this will be good for hording?
A SINCERE Thank you to all the users that helped in finding each item in the marketplace, and to each of the artists than make these items possible. Without you all, this list would not happen. You are all appreciated so much!

Other Threads
Hell's Prison Art Thread (By angelicsesshomaru)
Hell Prison Guide(By GENERAL k a t i e)
What Level Thread (By Spes ver eternus)






Hell Prison Bundle


Hell prison single