Al-Kutbay
(?)Community Member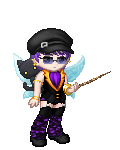 Posted: Fri, 09 Nov 2012 05:12:47 +0000
+ What is your relationship with Gaia like? Do you strongly react when things change or things don't go your way? Not particularly. The only thing that bothers me these days is just how much certain items cost, but since rejoining I've focused on making avatars using less expensive items (or whatever I had on my old accounts and traded over) instead of trying to save and scrounge up the gold to pay for the more expensive stuff. It makes me feel like I'm being more creative and really, at the end of the day, it's just a bunch of pixels.

+ Do you think your relationship with Gaia is a healthy one? If not, what do you think you need to do to change it? If your relationship has changed (for the better), what made things change for you? Yes. I don't even think I'm on the site all that much unless I really want to be.

+ Do you think a long break from the site could be beneficial to you or someone who is developing an unhealthy relationship with the site? Definitely. That's actually why I quit. Personal issues + caring way too much about stupid crap made me decide to step away from the site. When I came back a few months ago, it was with a new insight into how I deal with people online.

+ What advice would you have for someone who strongly reacts to site changes? Take a step back and remember that there are other things you could focus on. Take a walk, make a snack, whatever. Do you have a pet? Go play with it for a little while. I promise that when you come back, you'll feel better and maybe even able to react a little more reasonably. Especially if a single change to the site is upsetting enough to wreck your mood. This is the Internet and while I'm one of the first people to admit that the relationships and pretendy happy fun times had over it can be just as real and awesome as the ones you could have in real life, there is the unique ability to turn off the computer and step away from it. You can't do that in real life when s**t gets upsetting and I think everyone should take advantage of that when they can.

And if you can't take a break or step away or make yourself not care just that much about whatever has happened on Gaia or elsewhere and that actually worries you, just remember that sometimes the problem might actually be something else. I know my old issues with pretendy fun times were rooted in my personal insecurities, so maybe think about why such a change is upsetting you. Try and look at it objectively.

Either way, there are still great things about this site and most changes made to big websites tend to not be that big of a deal eventually. People get used to it. Heck, LJ is still doing business despite completely changing their comment sections. Yeah, a good number of RPers may have migrated, but the site certainly isn't dead.