aniiMel
(?)Community Member
Posted: Sat, 12 Jan 2013 22:18:26 +0000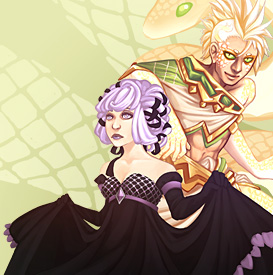 Items and Their Poses:
Dark Omen
:










Wig on Right is Dark Omen when cut by Sainte Ciel Agape










Wig on Right is Dark Omen when Cut by Sainte Ciel Agape
Golden Serpent
:
Golden Serpent












- Do you like the MCS?
- Is it as expected? Male MCS suck?
- Exceed expectations?
- All of you hoping for snakeys, are you happy? Elated? Jizzing yourselves?
- You little ladies and cross-dressers, are you happy for your curtsey arm mod?
- The repetition of color schemes. Yes, this matches Wisteria. And a lot of other items.
- Show us your outfits and item combinations!? Anything looking just fabulous that you'd like to share?
A little contest/game to get this started, whichever user predicts the monthly collectible for this month will receive a free envelope from me. Two users may win this as monthly collectibles come in pairs, but one user could win both if they guess both accurately.

Envelopes will be given out to the closest prediction if none are spot on!
Winners:
Yen Quest
Female is probably based on some mythological goddess, so probably a big flowing wig with
long cloth clothing of some sort
, beaded jewelry accessory, dainty foot mod, and
maybe a scenic background
.
teaparty in space
Well, we haven't gotten any snake items yet, and it's the year of the snake...
So maybe a serpent-themed MC...