Reichiru Tomoe
(?)Global Moderator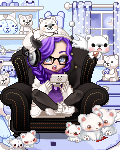 Posted: Sat, 10 Mar 2007 07:14:34 +0000
Edmund stopped in on page 900!
heart
Welcome to Edmund's Sexy Party, where we the fans can discuss our one true love of Gaia... Edmund. We were created back in 2005 and can honestly say we are the oldest active Edmund fan thread in the GCD. If you would like to see the original thread owned by Miss. Peanut-Butter, go here .

If you want to do some off topic chatter with your fellow Edmund fans, go here. It is not allowed in here as it doesn't comply with the GCD's rules.




Rules:


- To be added to the member list say exactly "Please add me to the list." If you don't, I won't notice you want to be added. If I don't add you after a decent span of time, feel free to PM me.
- All posts should in some way either be about Edmund, relate back to Edmund in some way, or be about the thread itself. All other posts will be considered spam. This is not a chat or hangout thread. If you would like to do so, please go here.
- Follow Gaia's ToS and the rules set by the GCD.
- If you are not a fan of Edmund, that is fine, but if you feel the need to post in here, please keep it respectful.
- If you continue to break rules after a warning, I will add you to my ignore list, effectively banning you from the thread.


About Edmund





Name:

Edmund


Hometown:

Durem


Age:

Unknown


Height:

6'2


Weight:

205 lbs


Bloodtype:

A


Occupation:

Shop Keeper at H.R. Wesley


Weakness:

Women


Memberships:

G-Team
To see Edmund's profile, go here.

Lovers of sophisticated fashions should pay a visit to Edmund at H.R. Wesley. Edmund sells everything from elegant tuxedos to dapper top hats-- but don't expect service with a smile. Those who look past his surly demeanor will find a man of great dignity, honor and courage...

how did he get that mysterious scar, anyway?


In the Fall 2007 plot titled "Unveiled" we finally learned how Edmund received his mysterious scars. While "Damian", better known today as Ian, was fleeing from his father's minion named Zhivago, Edmund came to rescue the boy which resulted in a vicious fight with the evil vampire. In the end Edmund won, but was left with a large scar on his forehead and a larger scar across his chest.


Official Edmund Art




Avatar/Store Front




Special Thanks To:
#1, 5, 6: Muzicfreak, #3: Beramode, #8: Quoi #11-13: Simply Indescribable #14: Obi Aoi



Plotline



To find the full plot, go here. To view Gambino's journal which is where the first 4 images are from, go here.





Lost Manga


To read the full Lost Manga, go here

2004 Olympics
Special Thanks To:
#1: Beramode, #3 - 7: Muzicfreak, #8: Caden Blue, #9: Quoi
Other

Special Thanks To:
#1, #5 - 9: T h e s t e p H, #4: xxtikalxx #13: Simply Indescribable #14 & 16: Obi Aoi



Official Videos


MMVII - Flower of the Night
MMVII - Fight or Flight

Fan Art

-Halloween: Bond... Edmund Bond
-Mouthy Scar: Nori Strikes Back
-Simpson Edmund: LessienElanesse
-Rowr!: Hermit of the Hills
-Edmund Sketch: Lucca Ashtear
-Small Sprite: Muzicfreak
-Edmund Goblin: Minerva Guile
-Black and White Edmund: Mademoiselle Fraise
-Paint Edmund: Cid High-Wind
-PG-13 Edmund: ~Fading Moonshine~
-A very... happy looking Edmund. xd : Brain Dead
-Young Edmund and Gambino: The Pie
-Save a Horse... Ride Edmund!: Diamonds are Forever
-Edmund MD: Dame Vi Sangirin
-Edmund Wallpaper: itsUiLOVE
-Edmund Headshot: [=L!ttle.M!ss.Em=]
-Headshot: IceboundIllusion
-Nice Headshot Sketch: Electric Pickle
-A lovely Edmund Wallpaper: xxtikalxx
-Chibi Headshot: xxtikalxx
-Harem Group Shot: pigeon-wing
-Happy Headshot: Alpine
-Sexy Team Durem Shopkeeper!: Lucca Ashtear
-Vampires are Going to Kill us All!: Nori Strikes Back
-Sexy Party Group Pic: Reichiru Tomoe
-Young Edmund: xxtikalxx
-Lovesick Edmund: The Intelli-Coon
-Prom Parody: Origasm
-Over the Shoulder Bust: Rabbit Fur Coat
-Windwaker Edmund: xxtikalxx
- Chibi Edmund: Giraffics



Other


-Edmund Themed Profile: ` K A Y L E Y
-Soul Caliber fight vs. Leon: Tobias Geminasu
-Edmund Sim (for Sims 2... only need base game): Reichiru Tomoe