AsterKurayami
(?)Community Member
Posted: Fri, 18 Apr 2014 22:44:42 +0000
[Easter 2k14: Easter Bunny's Update!]
Sat Apr 19, 2014 3:00 pm
Dawww Cute! Rabbits and Chickies T uT
So it looks like we a nice Easter Surprise aside from the event grants n___n
This is a real surprise and a nice treat courtesy of [NPC] Easter Bunny.
It's an evolving item so... woohoo!
emotion_c8
What will these curious eggs reveal?!? only time will tell.
All I know is I want one of each now x3
I'm missing Unusual does anyone have a spare?
Odd

Thank you Bowie-Spawan! x3
Go to the Following event thread to interact with the NPC!
[Sping into Fun Contest: Chat, find eggs, & maybe win!]
Tue Apr 15, 2014 8:20 am
[Grant Link]
You can click it twice!

Easter Egg Surprise
"Easter Bunny wishes you a Happy Easter 2k14. Open me up to receive a random egg but that's not the only surprise..."

Odd Easter Egg
"Odd sounds are coming from inside...????"

Peculiar Easter Egg
"Peculiar sounds are coming from inside...????"

Strange Easter Egg
"Strange sounds are coming from inside...????"

Unusual Easter Egg
"Unusual sounds are coming from inside...????"
gaia_gaiagold
What do you think of them?
gaia_gaiagold
Just hand held poses?
Looks like they're evolving items so not just handheld poses. There will be *something* else, just no telling what that would be...
gaia_gaiagold
Have you interacted with the Easter Bunny yet?
gaia_gaiagold
So are you excited yet? What do you predict will be inside of these eggs? Will there be chickens, bunnies, some other strange creature or flashpowder/gunpowder within these eggs? I'm kind of hoping for something odd like dinosaurs haha.
Quotes and Link Provided by Hiretsujiketsu a big thanks!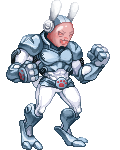 The Easter bunny has decided to grace this thread with his presence x3


Quote:

So...these are the messages that NPC Easter bunny has said thus far...

Happy Easter, [user]! Have a treat on me!

Eggs! Eggs everywhere! Eggs and prizes and cuteness!

I may have given up my plans for holiday mascot domination, but isn't it worth it? Look at me! I'm the cutest thing ever!

With my cuteness restored I am truly the greatest holiday mascot ever.

Have you all been enjoying my fun freebies and prizes?

Where are Jack and Santa? How should I know? I'm not their babysitter.
Letter to EB <3