E-Corp Grunt
(?)Community Member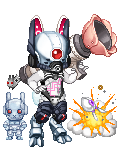 Posted: Tue, 19 Nov 2013 13:56:50 +0000
To Mrs. Claus
From the members of E-Corp
Mrs. Claus:
We are writing to you today in the hopes that you might be able to help us. E-Corp is a young and fledgling corp in comparison to S-Corp that is dedicated to spreading the awareness and spirit of the holiday of Easter in the name of the Easter Bunny. As you know, the Easter Bunny and Santa have had a very rocky history dating back to their childhood. The Easter Bunny has in the past not been very cordial towards Santa due to the popularity he gained as a child. Because of his childhood bullying towards Santa the Easter Bunny was hunted down by Jack and nearly turned into a vegetable with one swift punch. In the end, the Easter Bunny needed massive surgery to fix the damage done to his body and was never quite the same both physically and mentally.
Following that event both Santa and Jack became close friends. However, as they grew up Santa and Jack slowly drifted apart and when they reunited a very bitter and vengeful Jack needed to be reprimanded for being naughty by Santa. That fight, as you witnessed Mrs. Claus, did not turn out well for Santa. It appeared that Jack's power had grown greatly over the years and with one well-placed punch he killed Santa. That is where S-Corp came in. You, Mrs. Claus, along with the ElfTechs using all of the technology at the disposal of S-Corp through robotics technology and some questionable experiments were able to revive Santa. However, those questionable experiments somehow fused Santa with the mechanical armor the ElfTechs built for him. In the end through the intervention of an outside force both Santa and Jack were shown how childish their fight had become and Santa was knocked free of the mechanical armor.
In the years since, the Easter Bunny tried to remain in the spotlight but bitterness over how the Gaian public now saw him drove him to create an April Fool's prank gone wrong. After sending out thousands of exploding clock eggs to unsuspecting Gaians the Easter Bunny went into hiding. During this time others tried to fill in for him, most notably a very reluctant Ian who had to hide thousands of eggs Rufus had purchased with his entire college savings fund. However, some on Gaia were not completely happy with their beloved holiday figure not doing the job he was born to do. With their combined efforts they came together and campaigned for his return as the fledgling E-Corp. Since his return, the Easter Bunny has enjoyed being in the Easter spotlight once more. However, he was still angry over the way Jack had treated him as a child.
His anger got the best of him and the Easter Bunny targeted Jack and his home of Halloweentown with a carrot shaped missile. The missile was to explode in Halloweentown and simply take out Jack in an act of retaliation for their childhood squabble if Jack had not resorted to violence to resolve their current dispute and punched the Easter Bunny in the face as a way to distract him. The Easter Bunny was unable to get out of Halloweentown in time and it exploded taking out the entire town and severely injuring both holiday figures.
Jack it seems was able to walk away with the least amount of damage. However, we do not know the fate of the Easter Bunny. That is why we are writing to you today. We implore you to help us. We know that Santa is not on the best of terms with the Easter Bunny but we are hoping that, like he did with Jack, Santa can put aside his differences in the spirit of the Xmas season and help E-Corp find the Easter Bunny. You have the technology and the magic to locate and repair the Easter Bunny. Mrs. Claus, you once used the technology and research at your disposal to help Santa and hopefully you can do the same for the Easter Bunny. Because witnesses have said Jack is out for vengeance once more and if he is not stopped innocent Gaians may be hurt. If Jack will not listen to the Easter Bunny and E-Corp then maybe just maybe he'll listen to his childhood friend.
We ask you to do this simply not for E-Corp who came together in the hopes that our beloved holiday figure had survived the missile attack but for all of Gaia. Do this for Rufus so he won't have to spend any more of his hard earned money to fund another festive Easter. Do this to keep Diedrich from trying to run another holiday. But most importantly, do this for the children of Gaia who love both the Easter Bunny and Santa. It is for these innocent children, like Peyo, that we ask you to help us. Each year at Easter time they look forward to the candy, eggs, and small gifts the Easter Bunny leaves for them just as much as they anticipate the arrival of Santa at Xmas time. We know that you will have reservations about doing this and that is why we, the members of E-Corp, are offering to you any assistance we can provide. We hope that through the cooperation of our two corps we can set an example for both Santa and the Easter Bunny and that they can come together and put past feelings behind them for the benefit of all of Gaia. If Santa can mend things with Jack then he can do the same with the Easter Bunny and help save his childhood friend from himself. In resolving their differences Santa and the Easter Bunny will have given the people of Gaia the ultimate Xmas gift.
Yours in holiday spirit,
The members of E-Corp

(If you want to add your name to our many signatures, you can send a PM containing the image to Anaella)