Fractale
(?)Community Member
Posted: Wed, 07 Mar 2012 00:46:54 +0000
Soooo...CrosStitch. We all love a new store, with new items (and item contests!); especially if it's a gold shop one. But this shop's had a bit of controversy right out the starting gate, it seems. Just where in the land of Gaia is located?!
With the release of the mini comic that CrosStitch came with, the first immediate sign points to Durem, since we see Moira welcoming Stein; the owner of CrosStitch, to the neighborhood- which would likely be Durem. Stein's a classy guy and would fit right in there; and that Moira wouldn't mind him using her Durem Depot's theme of black and red, with skulls, buuuut...there's some signs pointing to his shop being located somewhere other than Durem....
Halloweentown.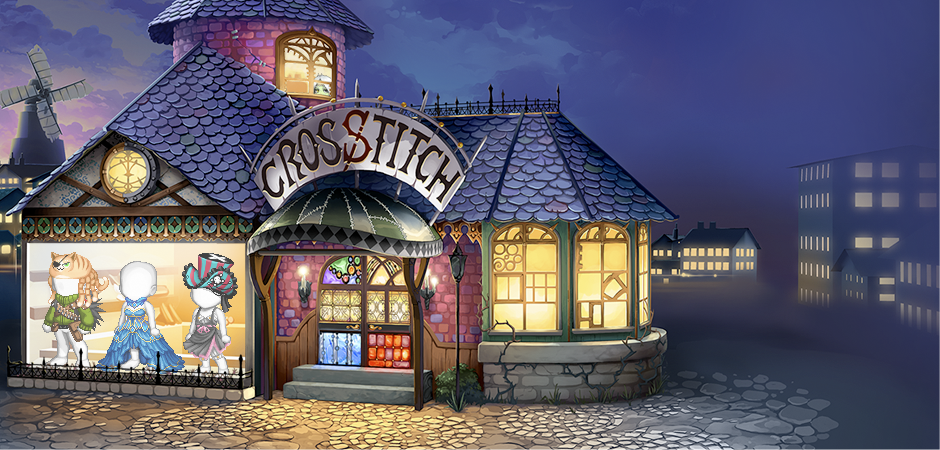 From the mouth of meep:
meep12345

Despite the mini-shop featuring Moira from Durem, CrosStitch lacks certain features that the Durem shops share (such as, for example, the concrete side-walk-ish area in front of all the Durem shops when you see their shop fronts). Furthermore, if you look CrosStitch's shop front, there exists a windmill, but unlike the Barton windmill, it is noticeably damaged, making it similar to the one in Halloweentown. Furthermore, …......if you look at CrosStitch's front, the decor (roof, windmill, sidewalk) all match that of Halloweentown (as featured on the old world map)... Which leads me to believe, quite soundly, that CrosStitch is in Halloweentown (at least, evidence until stated otherwise proves this)..
But this bit of controversy gives this old Glompie some hope! Hope that, if CrosStitch is actually located in Halloweentown, that its location on the Gaia map will finally be given a makeover. Look closely, and you'll see that in spite of the similarities; the windmill, the style of ground and roof, Stein's store still doesn't quite fit with the center building we see in Halloweentown's map. I feel like I should also point out that Stein can be seen peeking out from a cylindrical-shaped tower, connected to a shorter building that what's seen in the center of Halloweentown, with a view of the windmill in the background (the only building with a tower that could provide a view of the windmill in the background); and that the roof of the windmill is different.
The building layout and structure in CrosStitch's background is completely different that what's shown in Halloweentown, so I figured that with the release of the new store, we just might be seeing a change in Halloweentown's map as well.
Here's Lanzer's say on it:
Lanzer
The Halloween map is pretty awesome, if we ever get the chance to expand on our world map after the Towns update is finished I would have the maps brought back in. Someone like Stein would be great to show up there.
So, GCD, what do you guys think the dev team might've had planned for Halloweentown, when they released the map in '07? What sort of shops; what sort of features do you think they had in store for the desolate town; back then? It was obvious that Ian was running his silly little costume shop in Barton long before Halloweentown's release, so he was already stealing Jack's thunder. Damn vampire halfbreed.
Do you believe that Halloweentown can still hold some purpose, today? What sort of shops or features linked do you think would be appropriate for that area, today, and will we ever see them? Would CrosStitch be a start, since it does look like it's in Halloweentown territory?
Naturally, the other towns have updates in their futures, too; if only to accommodate the newer shops that found their way in, over the years. Do you see relocation for any of the shops, in the future; or uses for currently ignored shops, like the Love Building in Barton? Would Ian be better packing up and moving his costume shop over to Halloweentown? I think Jack would welcome him with open arms.