Spooky Mittens
(?)Community Member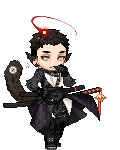 Posted: Thu, 20 Feb 2014 07:52:07 +0000
(( In Gustave's case, psionic strength equates to physical strength since his limbs are purely artifice. He moves them by thought and they contain 0% muscle. Bishopp may actually be a good matchup. This may be the opportunity I've been looking for to get Gustave deaded up so I can revive him as a human XD ))

Instead of simply batting the lance to the side and stepping in with his off-hand sword for a thrust of his own, Bishopp decided a different tact would be best. A strange choice to be sure, since Bishopp's current choice would take much more effort to accomplish the same goal. Gustave couldn't out-speed this foe the way he could your typical strength-based brutes. His lance would be gripped. This particular shadow-lance was a poor make, having been crafted from the soul of an innocent rather than that of a sinner. If Bishopp gripped it too firmly, the head of the spear would simply snap right off. Well, as Bishopp began to yank on the tool to try and get Gustave to stumble forward while pulling himself closer, the lance head would come clean-off. Now, whether this would cause Bishopp to stumble back or not would remain to be seen, but Gustave would not budge an inch from it. His heavy weight and the grippy spines in his hooves made it easy for him to maintain his posture, especially with his low center of gravity.

Would the thrust come? It very well may still be enacted. Gustave's right hand would leave the shaft of his spear as the tool would be yanked upon. He was very aware of what was going on around him, and aware that Bishopp could only feasibly strike from one direction based on the positioning of his remaining blade. It was unclear if Bishopp's tail remained in place upon the broken shaft but Gustave would be pushing this object, now little more than a glowing purple stick, towards Bishopp's hips with the intention of knocking his center of gravity off a bit. As for the trust aimed for Gustave's chest? Gustave's right arm would simply lift up, his resonance fins on the back of the forearm opening quickly and pouring blue aether into their surroundings which would form a golden buckler-like shield over the back of Gustave's arm. Upon contact with the weapon, Gustave's shield would, of course, weaken from it's draining effects. This would cause the blow to need much less force than usual to break through, so Bishopp would sink his weapon into Gustave's metal forearm where it would collide with a solid Darksteel skeleton. Oil would leak from the sound, creeping it's way along the magical weapon in question only to drip off unassumingly.

Bishopp had some fun toys to play with, didn't he? If Gustave managed to cause Bishopp to stumble at all with his thrust to Bishopp's hips, he would simply pull back his stick and adjust his grip on it for range. He estimated a loss of about ten inches, so as best he could expect a reach from this tool of about two feet six inches if he gave himself six inches to grip it. A strike would be aimed for knee height on Bishopp's legs in the hopes of forcing him to move or to cause one of his legs to flex in a favorable manner. If this was done, Gustave would lunge into the stumble while tucking his head and lifting his shoulders. He was going to try and deliver his horns squarely into Bishopp's face.