Kurai`Haruko
(?)Community Member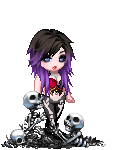 Posted: Thu, 13 Apr 2006 01:55:30 +0000
Zackrodisiac Spamnation/OOC THREAD



The building is set in the middle of the forest, miles and miles away from any civilization.Long ago sealed, this tavern were nothing more then a prison of bad memories and wooden decay. None dare venture forth to it's oak doors and try it's rusted handle. That of which was obvious. The path had been grown over by grass and small plants and weeds over the many lost years, leaving the tavern to seem forgotten.
However, it was not forgotten for long, for it's original owner returned one cold evening with a young woman, who could be no more than 20, who requested to have a look when she happened upon the abandoned building.
After much debate and well reasoning, the Tavern was sold to the young woman for barely anything, but a simple two hundred dollars (She figured she'd rather see the place become something then wilt away), and was reopened with a new name.
Although the exterior of the tavern remained mostly untouched after the young woman bought the building,the inside was remodeled with the newest of furnishings. The floors still smell lightly of polish, the tables and stools gleam in the dull light, without prints.

The interior of the Zackrodisiac Is accented with an ebony toned ceiling and matched with vanilla couches each sporting twin orange pillows, small lights dot the ceiling and illuminate the dimly lit interior, between the arms of the two couches is a small coffee table crafted of metal with a glass surface. The dark oak flooring is complimented by a multicolored ivory rug with an ebony half circle toned black. The bar is oak with a glass casing on the front with green LED lighting illuminating the inside of it and tall metal chairs, armless with back rests lines the curved length of it. The ivory walls are dotted with random paintings and priceless pieces of art.

The path, now cleaned and kept, lead to an aged, weather worn oak door. The handle, now a glistening copper.
The outside of the Tavern appears worn out by the long years of no maintenance. In some areas, the wood buckles from water absorption, and on the roof, shingles are missing from extreme storms.
However, the inside can make one step back and look twice.
The door had two words,painted in gilded gold, The Zackrodisiac

The woman had made a home for her people.

(side note to all..The Zack is five stories..there are two stories above ground,and three below ground.)
You enter
THE ZACKRODISAC







Table of contents: Under construction

APPLY FOR ALL JOBS VIA PM TO

Saka Hirozumi Owner

:

Haruko'Kurai Co-Owners

:

&

Master_Tricon,Saka_Hirozumi Mod

:

Dante Delvont Head Bartender

:

Kozu Pantera

.

Bartenders

: apply vian PM




(Apply Via PM)

Head Bouncer

:

Saka_Hirozumi Bouncer

:Apply Via PM

Kizu Pantera Cooks

:Apply via PM

Head Doctor

:Apply Via PM

Head Nurse

:Apply Via PM

Nurse

:Apply Via PM

Maids

(

female only

):Apply via PM

Banned List Grey(temporary)

:

Banned List Black(permanent)

:

Deesensitized,Rinilias_Todd,Glorious Athena
Killer of Suns



The Fighting arena Layout
The Zack
Hot Tub

Will have five open slots for five jobs at a time, to be completed in numerical order.

For jobs 500k and below in gold 25% is to be paid up front as insurance and the last 75% paid when the target is put down or situation is handled

For 500k+
40% up front and 60% when job is done

All jobs must be cleared between Saka and Kurai regarding what needs to be done

You can request dead or alive, and we also fix cheaters!
We will need a character name
a person's username
some character information
A brief explanation of how they fight and their powers

Send a PM regarding the matter to Kurai, NOT Saka
start trade with Kurai.

We are looking to help keep the long held tradition of Gaia commerce bounty hunting alive, and we may employ more bounty hunters! if interested then PM Saka with a message labeled so and talk it over with him!

1.
2.
3.
4.
5.