God Solder- Wolf
(?)Community Member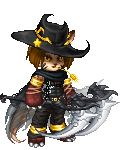 Posted: Fri, 22 Oct 2010 11:50:03 +0000
In the middle of a forest stands a pub and hotel along the only road between two major cities. The owner is a half breed wolf demon that's over 7600 years old. He was recently a bounty hunter but decided to hang up his boots and settle down. He has many secrets but usually keeps to himself. He has been revealed as the forest guardian and can control the forest to his will. The pub is made completely out of wood and seems to be brand new but there is more to the old place then it may seem.
~Walking inside the pub, one will find a bar straight ahead. This bar serves all kinds of drinks. Even blood is supplied for those that need it.
~To the right is a stage area for entertainment purposes.
~To the left is a lounge with couches for people to relax. There's even a fire place where a fire is nearly constantly burning.
~There's a door behind the bar that leads to the kitchen. The kitchen is kept well stocked with anything anyone might need.
~There's a set of stairs to the far right at the back of the room that leads up to the hotel rooms.
~Next to the stage near the back, just before the stairs, is a door that leads out to the hot springs.
Surrounding the pub is a very dense forest. All kinds of creatures exist within this forest. There are various places where the trees open up into a clearing. There are also some different paths that lead throught the forest though most are not very travelled, the main one leading to and from the pub.
Over the many years since our story last left off a massive tree with a waterfall fall running through it. Many natural demons have moved into this tree and made it into their own way of being.
There's a river that runs through the forest. It comes to a waterfall at one point before continuing on past the pub. This river is well stocked with fish and is very clean and clear, providing a fresh drink to those that need it.
[align
This is the Dark Wolf Forest. It holds many secret and covers a massive amount of land. Do not take it lightly or your life will belong to it.
This is the Northern City of Widowmere. It is very industrious and moves forward in magics, weapons and other such goods. It is welcoming to both human and demons but has more so demon dominated.
This is the Southern City of Lexington. It is a human city that is far higher in technology than the demon cities. This is where their strength lies as humans.
This is the inner Mountain valley. Believe it or not this Valley resides Inside of a mountain. The ceiling just looks like a sky but its not. It is always day time in here so to speak. It holds many mysteries of its own.
Senji Village is located a distance from the pub itself. It started out as sacred plot of land when it was blessed by the Ancient Shadow Lycan Guardians. Over the past 1000 years this sacred land has thrived into a village where they reside instead of returning to the Shadow Realm. Here people can learn the cultures of the Shadow Realm and creatures from the Shadow Realm can learn adjust to the human world. Alot of the decendants of Shadow Lycans stay here while they age to study and train. This land is protected and is a safe haven for those that need it.
Theme Song of the Pub