Syra-Rose
(?)Community Member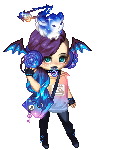 Posted: Fri, 04 Oct 2013 01:05:19 +0000
In a Northern City, warm fires are worth more than gold.

In such a city, a snug place to have a fine drink and be by that fire, is a favourite past time in the evenings and borealis flecked nights.

The Snow Den is on a corner, not far from a main square. The sign is covered in the thick snowfall, but it's doorstep and walkway are swept clean and salted. Inside it's warm and often smells of cinnamon, the fireplace at one end warming the bar room with it's amber glow. Lanterns are lit around the room, adding more of the warm light to the wood furnished bar and tables. There's bathrooms, kept clean for the public. Doors behind the bar lead into a kitchen, a stark contrast to the warm wood furnishings in the outer room. The kitchen was tiled with stainless steel appliances and counters. Clearly hygiene was the priority taken over a rustic homeliness here. A stairway leading up to the second floor. There are four rooms available for rent, all six rooms sharing a larger bathroom upstairs.

Newly Added: The Den is connected to another large building that is often the only thing glowing all day int he city aside from street lamps and fire places. It's a greenhouse, filled with an abundance of different plant species meant for warmer climates. It houses a walkway that meanders through an expansive garden, including a fountain in the center. However some form of magic has been used here, as the garden/miniature forest is clearly much larger than the building it houses.

Geographically:: You're looking at a thickly forested mountainous area leading into the tundra after you get over the mountains going East. To the west is the frigid coastline, which is sometimes only an hour away, sometimes farther depending on the ice. There is a small port town where the actual stone of the coast is, but passage is spotty, considering weather conditions.
The way this works...
This is based day to day in REAL time. Meaning, if you and another player have something going on, you may continue working on it over the course of days, but the inn technically resets every day so new people and other regulars can re-enter their characters.

Please try to make an exit if you're done for the day/night so people aren't waiting hours for you to post.
Rules...
1. Gaia ToS
2 . Gaia ToS (I don't mind bloody fights or kissing, but srsly, not everyone wants to deal with your sloppy drama)
3. Be respectful. Do not under any circumstances decide you want to just waltz in and ******** s**t up for your own reasons. If you want to add a twist or something unexpected please message me before doing so to get permission first.
4. Please post at least a paragraph, with punctuation and some details. I'm not asking for a novel, or an amazing character, or a fancy post-style, all I want is for you to actually participate in a coherent fashion everyone can understand and respond to.
5. If I say you're banned, that's it, you're done, goodbye.
6. And Gaia ToS. Which means a lot of things, you should go read it, but my main concerns are nudity, sexual referencing, minors being dragged into those types of situations. I will allow cursing, but don't overdo it. This is a public forum where many of the people on it are YOUNG.
7 . I'll add more rules as I see fit, I hope everyone can behave and have some fun.