endless p r e l u d e
(?)Community Member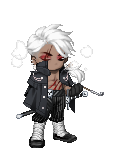 Posted: Fri, 22 Mar 2013 03:47:49 +0000

"Ngh-ah~!"
Nobu raised his wrist to wipe his lips and then threw Tyson an incredulous stare. His eyes fell on the amulet that was fiddled between Tyson's fingers. Those same red eyes slid up to Tyson's single aqua one, the gaze held steady and true.
Did he hate Tyson? No of course not.. Then why was he always such a d**k to him? Nobu swallowed some more of his water and let his lips form a grim line. He averted his gaze then and grazed the length of his index across his lower lip
"I don't hate you."
He finally said,
"I just..."
I just what? He felt his cheeks flush a bit as his hand now wondered up to rub the back of his head roughly. Yes, he was the entertainer of the place, but that didn't actually mean he was good at talking to others. All he had to do was put up a show; no actual interaction. He stopped the rubbing and looked back up at Tyson quietly; lost for words.