Lady Gilaen
(?)Community Member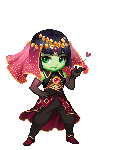 Posted: Sun, 03 Feb 2013 05:23:12 +0000
Adelle smiled still, but she never reached for the key so kindly offered to her. She had opened her mouth to speak before the young waiter turned tail to retrieve it for her, thus she'd been denied the chance to explain her circumstance to the eager young man. Well..at least was pleased with his work, she supposed.



"I'm sorry, dear, I should have explained myself outright,"

she went on, "I am long traveled, and I do not have much money with me.. Any money, as a matter of fact. I don't know what your policy is on compensation, but I can trade goods and services for a brief stay and a few modest meals." It was a strange proposal, but most Gaians were strange just on principal. Adelle was a priestess, so of course she had no money. It wasn't as though her Order had paid her for serving their Gods; they'd merely granted her the bare minimum to get by. But that brought to light the question: Exactly what services could a priestess offer to anyone short of spiritual comfort and reassurance?

The hump behind her shoulders, ill-fit to the rest of her, seemed to move independent from the rest of her. It was just a slight motion, merely a twitch, but it was still quite peculiar. She didn't seem to notice.