Rose Scented
(?)Community Member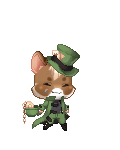 Posted: Thu, 31 Jan 2013 05:41:39 +0000
Wearing: This.
With: Doll, Tig, Jez and Kelly.
OOC:



Large hands fiddle with the glass that sits before him on the counter, move to the bracelet on his wrist, back to the glass, behind his head; simple nervous ticks that give him something else to think about than the smells that assault his overly in-tune senses, blocking the mango perfume and the anxiety and embarrassment that rolls from the lovely blond with the startlingly silver eyes. Despite this, however, he waits with casual patience as she finishes eating and drinks down most of the freshly made tea before speaking, and when she does speak he stops his nervous ticks and focuses on the sound of her voice, allowing it to work like an anchor to the physical world, not the sensory one.

He chuckles. "You are so very welcome, ma'am."

"Getting lost isn't that difficult to do, trust me. Been there, done that." Bought the ********' t-shirt. He shook his head and leaned forward slightly, elbows rudely making quiet contact with the counter in a way that his mama would have smacked him upside the head for, but Gus was tired of fighting for control over his wolf, and needed the solid support the counter offered so freely. His eyes lifted to meet with the silver of her own, and he tilted his head to the side charmingly. "…at least you wound up here and not somewhere skeezy." Was that even a word? Now it was.

He straightened back up, fiddled with the bracelet again, pressing the smooth underside of the band against his skin though he didn't take his gaze from her. "What's your name, gorgeous? Or shall I continue to refer to you as Snow Princess?" A hint as to his thoughts, not that she needed it, not that he knew that, but Gus was a friendly, open kid and didn't mind sharing his thoughts; beside's, the nickname suited her.