Rose Scented
(?)Community Member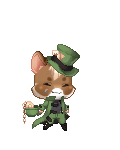 Posted: Thu, 31 Jan 2013 03:34:08 +0000
Wearing: This.
With: Doll, Tig, Jez and Kelly.
OOC: Edited.



"I'm glad you like it, sugar." The wolf responded with a kind smile before digging in further, though he paused a few moments later.

Being that Gus was still working on being in tune with his new senses, he was immediately assaulted by the feline musk that Tig carried, the scent of stale fear from the small, snowy girl that had come in, and by the older wolf that followed shortly thereafter, everything compiling with Doll's mango perfume and he suddenly felt nauseous and unable to eat, overwhelmed. He took a deep breath and gently scooted the half-eaten plate away from him, eyes closing as he took several deep breaths through his mouth to try and help clear his head before glancing at the snow princess with his best, award winning southern smile. "Howdy." He muttered, a nervous glance twisted towards the older wolf.

"Why the hell is everyone so attractive here?" He couldn't help but to ponder before he looked towards Kelly with a respectful nod, eyes downcast, gaze lifting again to study their newest arrival, though he tried to keep it respectful enough so as to not make her uncomfortable.

Tig's smiley wave of dismissal was taken with a return smile, and a nod.