Viice
(?)Community Member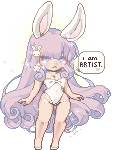 Posted: Mon, 12 Nov 2012 07:42:20 +0000





S

he let him linger in the fog of drunken inhibitions as she examined her sharpened claws, her brow peaking a tad as he mentioned the word demon. As if irked by the casual way in which he addressed her kind, the lights flickered in sharp warning the moment his suspicions translated to spoken word.

Her eyes, so dark before, lifted from her nails to Mr. Park, and he'd notice a sudden soft glow behind her gaze like a pair of smoldering embers.

Only a fool knows no fear. Disrespecting the underworld was a dangerous treachery...

But her sudden rage fell away as quickly as it had risen, and was replaced by cocky undertones. It was clear that she had gotten to him; she could sense his paranoia, his discomfort, and it fed her.

I drink whiskey, dove.

White bird of hope, of peace, of love. All signs of vulnerability and weakness in the eyes of the devil. It was an underhanded insult.



Fireball whiskey.

She tilted her head in mock inquiry, her eyebrows lifting up.

Can you deliver?