Zero Omega
(?)Admin Lead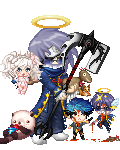 Posted: Tue, 09 Sep 2003 19:07:26 +0000
Welcome to
Some Run Down Bar!
A Little History Lesson
This is Some Run Down Bar, formally known as The Evil Ones Bar and Arena. Created September 09, 2003, I wanted the bar originally to be only for the wicked. A place where gambling, drugs, alcohol, and plain out evil would rule. The bar has changed a lot since then, since its official return October 2004 the bar has been called Some Run Down Bar. The atmosphere has also changed, it no longer has that dark and evil undertone, but pure insanity and fun. I guess you could say that this bar, is the complete polar opposite of what I had originally planned, and looking in retrospect, I'm proud on how it turned out.
What is Some Run Down Bar?
Some Run Down Bar (SRDB for short) is a bar for everyone, from the insane, to the evil, to the plain out normal Gaian. We ask that you, "Leave your sanity at the door" because SRDB isn't a normal bar. It is an insane bar; we do things that constantly break the laws of physics, other sciences, break religion, and cause total and utter chaos. We like it that way; it's how the bar came around to how it is. From rebuilding the bar in a few seconds, to devouring anyone or anything, to giant domos, to mutant plants, SRDB is not a normal bar. This is what SRDB is, a bar of fun, insanity, and excitement. What happens in SRDB, if you're new, will probably make your brain explode three times over, then be tossed into the pits of George, our resident domozilla.
The Regulars and Kickass People and Titles
This space was originally for our "Employees" but, seeing as how every regular was suddenly getting a title I decided to fuse the Employees, Regulars, and the ones with titles. So every person you see on this list is an "Employee," a regular, and has a title.
Owner/King: Zero Omega
Bartenders: Yasai, Joasis, and Zero Omega
Note that Some Run Down Bar is a self-serve bar, the bartenders will serve when they want to serve or are asked to.
Official Bumper: SpaRRowS LaSs ^-^
Official Backlogger: Kinetic Dream
Official Scapegoat: Joasis
Official Scary Uncle: Kinetic Dream
Official Repeat Post Record Holder: [ ev!lbunny ] (With around 140)
Official Bar Religious Figure: Mr. Jebus
Well... For those who want to accept him
Official Cookie Master: SpaRRowS LaSs ^-^
Official Backlog King: Kinetic Dream
Official Kick a** Person: .Joker Tearz.
Official Nun/Pr0nstar: Neko the Great
Official Something:[ ev!lbunny ]
Official Bar Nudist: .PinkyXVIII.
Official Drunken Pirate Lady: Mistress Kaizoku
Official Make-Shift Fort Dweller: The Songbird Avenger
Official Cursed Witch Typo Queen and Pron Maker: Leena-nee
Official Queen: Gatosa
Official Gone but not Forgotten Ninja Kitsune: [.Raspberry the Ninja.]
Official Star of the Kitsune Gone Wild Series: Kisa Valentine
Official Mad on His Own Power Madman: [maxanas]
Official Crazed Canadian: The Crazed Canadian
Official Might be a Ninja: Pheonix315
Official Shady Runner of the Security System: Cariss
Official Gay, Sexy Unicorn: Gallade
Official Hotter then You Transsexual: Achilleo
Official Super Heroine: [Danger Woman]
Title Pending: Dyne the Assassin
Title Pending: XxstryderxX
Title Pending: The_Oogie_Boogie_Man
Title Pending: Unscene