Nyx Hemera
(?)Community Member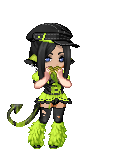 Posted: Fri, 09 Dec 2011 04:14:45 +0000
The scarred woman was no fool, far from blind as well. The scents in the room had seemed to hit a peek, a mixture of blood, death, anger, jealousy and arousal hung thick and bitter sweet. Her eyes would narrow slowly, something had changed and she wasn't quite sure how to approach the situation. The man that now stood in front of her was no long the man she had spoken to earlier, now offering her a quill with a bite. The form that now stood in front of her smelt so strongly of a venom one could class as jealousy in its mere form. The scent so thick she could roll it over her tongue like honey on winters day. She saw those eyes, no longer curious but seemed to peer into ones soul, even past it. Her gaze shifted toward that blood soaked pen he held within his hand and then she would take it. The calligraphy was unlike one was used to, and instead of a usual alphabet it was comprised of druidic looking swirls and vines, the end translation was her full name in the ancient alphabet of chains. One's name was a name, but to be given a full name was a sign of trust, now considering him an ally and friend. As she scrolled her name across the paper, the color that trailed across the parchment in continuous motion, never leaving the page was not red or deep crimson like that of ones usual blood. It was a mixture of silver pigments with what looked to be black slowly seeping in the longer she wrote. The end result would have been "Carnivaal Crii, Heir to the city of Chains, High Prism of the Tower of Arya." That would be of course, if one could read the language, although... she figured if one stared at it long enough they would see the shift in blood that would allow for a bit more easier reading.

It has quite possibly a good thing the woman had been sitting down, for the quill was indeed a blood sucker. It had almost felt as if tiny pins or needles piercing into her skin, or rather little teeth. Letting the pen go and playing it upon the counter, her gaze lingered over it for a moment as if sending its scent to memory. It smelt funny, that's for sure, and thus her gaze shifted back to the shaded Uriel. The longer she looked up at him, her eyes slowly shifted, mirroring his own however a darker tinge appeared near the outside part of the iris was, the shadowed woman was watching him as well. The longer Carnival looked at him, the longer the question swirled within her head. The shadowed woman whispered to her from the binding of her tomb, the demon Suiten that had once been her champion was beginning to feel hungry, the shadowed woman knew his strength would wain and it would only be a matter of time before she would be free. The woman whispered, and the tone that flowed from Carnival's lips was not her own but the barbed, ice cold tone of the shadowed woman. Even as she spoke the scent of winter chilled air and the purest roses lingered into the air.

"My dear... we all have our demons. It's just a matter of those who are willing to embrace their inner natures. In the end, when is true freedom granted?"

If the man would have known, the shadowed woman was laughing. Not to spite him, but for him. She sat in her prison, betrayed by her own creation and for what? The seven she had spared, the seven that have not come to their full potential quite yet... have so far done nothing but provide her amusement. Within her prison, she was but a shell of her former self. Left to sit to slowly whither and die, she had not fed in years and she was not sure if she could stop if she started. Her once piercing ice blue eyes had now become enveloped by the shadows that used to swirl within them. Her rage was never ending, she knew long ago that screaming and beating her hands raw would get her no where in the endless amounts of torture that the very seven soul she saved brought her. If it was not having to go through with watching their endless pleasure in freedom at her expense, it was having their souls trapped in with her. As she grew weaker, they became stronger, and she knew that as long as she clung on to the never fading hope that the demons strength weakened, she would be free. Thus her rage kept her moving, kept that part of her soul within the darkness to peer out upon those seven. What had they done for her? If only they knew the true extent of their purpose.

It would have seemed as soon as the words had ended, the scent would slowly fade. The scarred woman would rest her head upon her hand, rubbing her forehead softly. She always hated the slow torture, the slow kind of pain that never seems to quite go away as apposed to quick and well... painless. She would sigh softly, an almost inaudible sound, strands of her dark hair falling across her face.

"A drink, dear. If you please.. also.. What shall I call this Uriel?"