Dan Schatz Maxwell
(?)Community Member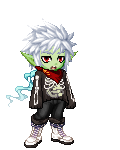 Posted: Sun, 01 Mar 2015 02:04:04 +0000
dark_serena07
Dan Schatz Maxwell
dark_serena07
Dan Schatz Maxwell
Kohana Mishikoto
Dan Schatz Maxwell
He walked over to her and gently hugged her. "I am the one who is sorry. It was my fault. I should not have gone after the staff. Please forgive me." he murmured.
Kohana hugged him back and closed her eyes tightly.

"I can't make the smell go away. Or the image of you with a hole in your chest!"

She murmured against him. Shaking as she tried to keep from crying. While this helped or at least started the process that would make her okay again, it was going to be a long road before she could sleep without nightmares.
He gently stroked her hair, then out of the corner of his eye, he saw Hana. "Hana is out alone." he said. He gently kissed the top of Kohana's head, then moved away from her and went to go get his daughter.
She kept going, wanting to be as far away as possible from the bar, not caring that she was out alone
"Hana!" he called as he followed.
"Go away!" She sank down by a tree sobbing. "Stupid chain reaction."
He finally caught up to her. "What is going on? Why are you out here alone?"