Gothic Romantic
(?)Community Member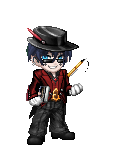 Posted: Tue, 04 Dec 2012 19:01:10 +0000
Welcome to the Flickering Candle. Is there anything that we could do for you? A tour? A meal? Entertainment? Or perhaps some rest? Please, let us know if you need anything. Also, please check the Message Board for up coming events here at the Inn.
READ THE FIRST PAGE
FIRST
!!!
VACANCIES
: Many rooms available.
HELP WANTED
: Looking for enthusiastic applicants.
Description
: At the end of a twisted loose stone path is a large dark manor. The surrounding hills seem to close in around the building as the dimming lanterns of its porch flicker in the moonlight. The stone walls and pointed archways give the place an eerie feel. A conservatory to the rear of the building seems to have been recently maintained, even though its glass windows are either cracked or missing and covered with all kinds of plant life that once was tame. The 6 story inn somehow seems inviting despite the ominous feel. The small army of crumbling gargoyles stand sentry over the door way, widows and corners, and seemed to once protect the building from criminals and hooligans of many sorts. The massive 12 foot iron doors creek as it opens. The porch wood is a dark black cherry wood. The steps are actually large ebony slabs stacked upon each other. On the ground beneath the rows of tall windows on either side of the porch are long beds of well tended flowers. Carnations, roses and tulips of red, purple, black and blue fill these flower beds.
Table of Contents

Introduction: Post 1
Table of Contents: Post 1
Rules: Post 1
Employees: Post 2
Application Form: Post 2
Inn Banner: Post 2
Foyer/Check-In: Post 3
Message Board: Post 3
The Rooms: Post 4
Evictions: Post 4
Dining Room: Post 5
Aquatics Room: Post 5
Arena: Post 5
Lounge: Post 6
Basement: Post 7
Our Goals: Post 8
Friendly Links: Post 8
-Rules-
1. All must follow the Gaia ToS rules
2. Fighting is not allowed!
3. No GodModing.
4. Permanent Residents are resistant to harmful magic while they're within the Inn.
5. Please ask me for anything. We'll do the best we can to get what you wish.
6. Employees must post at least once every 2 weeks. You may contact me if you can't post for a while and I will grant you leave for a total of 5 weeks in total. If your leave is longer, then we'll have a temp in your place until you return. Failure to notify me or post at the Inn would mean instantaneous eviction .
7. I shouldn't have to remind my employees to post. From now on, I will give my employees two (2) warnings, if they fail to neglect their duties as employees thereafter, then it is their choice and shall be

evicted

.
8. No Spamming, Flaming, or Bumping.
9. Temporary Residents will forfeit their rooms after 2 months of occupation, or if they don't post within 2 weeks of their last post.
10. Most of all, have fun.
11. This is an RPG. I am essentially the GM. You play your character; I play the baddies unless I recruit you to help. If you want to give your character a different storyline than the rest, then please tell me about it. If you don't, then there will be much of my PMs sent to you about it, asking questions, or telling you to edit.