Aizen Teresaga
(?)Community Member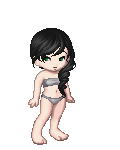 Posted: Fri, 01 Feb 2013 18:45:07 +0000
⋘

The

ℜ 𝖊 𝖛 𝖊 𝖓 𝖆 𝖓 𝖙

Guardian

⋙
"And as the Ascended One danced into Heaven, the Revenant Guardian returned..."
xxxxxxxxxxxxxxxxxxxx
Raven pressed the palm of her left hand, fingers dipped and curled to push the door open. The Neohuman wore a scowl, her jaw set as if her lips were ready to curl into a snarl. Brows furrowed together, she looked remarkably pissed off. The night had been a vague, colorful blur and before too long, she had woken up outside, slumped against a wall not far from her bike. It wasn't this that upset her so, as she was far too used to sleeping outside in worse conditions. It was the upstart who was marveling over her street bike that spiked her temper so easily. Whether he was attempting to hijack or not, Raven had been on him so quickly he didn't have time to scream. A sickening crunch had been heard as Raven jumped to her feet, vaulted over the seat with an ascending kick and taken the toe of her boot to the man's temple, slamming him into the colorful wall of graffiti, effectively killing him.

Clearly she was not a morning person.

Now with metal case in tow, Raven made her way to the bar, easing into the seat. Setting the case on the table, she unlatched both locks and carefully opened the lid. Syringes and serum neatly lined the inner foam casing. A sterile injection gun found its way into her hand, and Raven tactfully inserted a vial of serum. Screwing a syringe in place, she gently tapped the vial, bursting pockets of air bubbles that would be far more detrimental to her bloodstream. Gently setting the vial down, Raven took a small bottle of alcohol out. Reaching over the bar, she took a small square napkin, and uncapping the alcohol, pressed the napkin to the top and tipped the alcohol, a small dark spot forming. She rubbed a spot along the left side of her neck. Taking up the gun, a careful position of the needle and gentle jabbing with a squeeze of the trigger injected the serum directly in. Swabbing the gun, and collecting the empty vial and the used syringe, Raven wrapped both in the napkin. A bottle of pills remained in the corner, and after a pause Raven decided it was best to take one. Uncapping, a small blue pill fell into the palm of her glove. She cocked her head back and tossed it in, swallowing it dry. The Fallen Engineer had warned her of seizures, but the pill would help reduce the electrical activity as the serum worked to contain the XOK Cells that made her a Neohuman.



"This had better work or I will have that Engineer by his ******** nuts..."

Muttering dark and sinister things, Raven stared at the boot that had killed the man. The worst part was her lack of remorse. Her gaze narrowed, the pupils thin, feline slits. That was the part of her she feared the most, the part that did not care. That had been her life. No family, no friends, no allies, very little emotion, and love of all form forbidden. OXY had trained her that such things were hesitations, and hesitation was death. Raven had not stopped to think about that man, his life, his family, his friends, his allies, or if he had anyone he loved. He was involved with something she was charged to look after, and she was trained to kill anything that got in her way. The thin rim of gold around her irises seemed to expand and grow, and Raven felt the combat of emotions. It suddenly occurred to her that Corvus was the part of Raven most effected by the XOK cells. If this serum was there to mute it, Corvus would rebel fiercely, perhaps violently so. That at least explained why she felt murderous at the moment. She really didn't like it when people touched her coveted things.

Murderous intent. It was the same feeling she felt when Corvus was so dead set on killing Bishop. A very wild, fierce sensation that burned and ached and struggled. Bubbling and welling up, a guttural growl passed through gritted teeth. Something so small and trivial as touching her street bike now seemed like a very absurd, ludicrous action. How dare they? Had she not promised Bishop she'd smear them along the wall if anyone tried it? Now the burning desire to pick a fight was threatening to surface, the slender digits coiling up as the serum worked its way through her. Her heart rate was alarmingly fast, and she knew it was all because of Corvus making one last stand, fighting to break the seal, fighting to tear someone to pieces.

xxxxxxxxxxxxxxxxxxxx
₪

☽

♋

☾

₪