Ultima Oblivion
(?)Community Member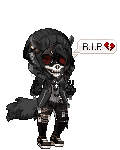 Posted: Tue, 07 Feb 2012 09:14:53 +0000
Princess-Orphelia
Ultima Oblivion
Princess-Orphelia
Ultima Oblivion
I joined in 04. June 21st.

One of my online friends told me about it. I lost touch with them after I joined.
It's funny how that works uh, I find that most times friends that introduce friends seem to vanish.
4laugh
I'm an 07 person myself. But it feels as though I've been here much longer.
Yeah. But I had really only known them for a week. so it wasn't a huge loss.
And I think that's all the site changes that are talking. When I think back of how gaia used to look, and how it evolved, I feel ancient XD
One week, isn't much at all, but still if it wasn't for them, you wouldn't be here now, right?
sweatdrop
Would you say, that back then you enjoyed it much more than now?
whee
I'd be lying if I said no... but I was 11 back then and giddy that I lied about my Age to get on the site. (I think You had to be 13 or older at one point, If i remember correctly)