[NPC] Cindy Donovinh
(?)Gaia Staff
Posted: Sat, 22 Sep 2007 00:23:34 +0000
Good afternoon, Gaians! This is Cindy Donovinh of Gaia 9 Action News, reporting the latest Gaia goings-on. Let's turn it over to the admins for a recap of the week's events:
Warm your clammy hands with hot, hot Collectibles!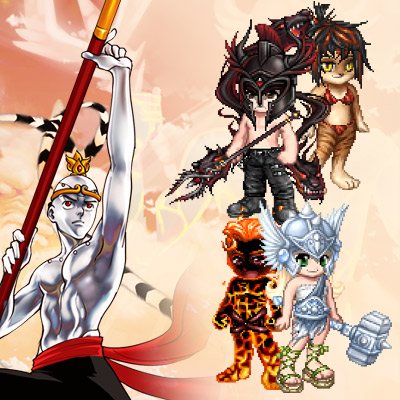 September's Monthly Collectibles have been selling like hotcakes, going like gangbusters, flying off the shelves and many other exciting clichés! The
Superior Form
is totally unique among Collectibles. It lets you completely change your avatar's body in a bunch of crazy ways: stitched-up zombie, scaly dragon, fuzzy cat-person, and more. The
Gift of the Gods
includes over a dozen mythological wonders, including Thor's Hammer, the Helm of Hades, the staff of the Monkey King and lots more.
Remember to pick them up before the end of the month, or you might feel like a chump when we stop selling them and you keep wanting them! To get these Collectibles for your avatar or try them on in our Dressing Room, visit our
Monthly Collectibles homepage
.

Prodding continues on Gaia's forums.
A few weeks back, we released a massive, much-needed and all-encompassing update to our forum code, completely rewiring them for maximum technical awesomeness. It was a six-month project that basically rebuilt the forums from the ground up. Most of the changes were under-the-hood type things which were invisible to everyone but our developers, who see the forums like that guy in The Matrix who looks at the code scrolling by and sees foxy ladies and delicious hamburgers.
We also made some preliminary changes to how our forums look, but we're still very actively looking at member feedback and coming up with ways to make the forums look as good as possible.
Please feel free to post your opinions and suggestions in
Lanzer's Site Feedback thread
about the new forum design. If you want a preview of what our next UI tweaks to the forums might look like, take a gander at
ijustworkhere's journal
for some pictures.
Bask in the glow of Forum Pulse.
Say howdy-do to the newest feature on Gaia: Forum Pulse! This amusing gadget lets you stare at a constantly-updated list of active threads in each Gaia forum. To check out this shiny, pulsating infohydrant, just go to any forum on Gaia and scroll down to the shiny, pulsating thing. That'll be it.
If you'd rather not see Forum Pulse, you can click the little "x" button to hide it away.

Design ye an item!
Hey, do you have an awesome idea for a new Gaia item? Of course you do. Every Gaian does. Now is your chance to get your idea made into an actual Gaia Online store item, and reap all the fortune and glory that comes with being a Gaia item designer.
We've opened up Gaia's first-ever Item Design Contest! Send us a crude sketch of your idea. Our artists will pick ten finalists, which will be voted on by the Gaia community; the winner will have their item created by our artists and sold in one of Gaia's shops. You'll also win half a million Gaia Gold!
Visit our
Contest Page
to submit your entry and take your first step into superstardom. Who knows: someday, you might be rollin' in a solid-gold Cadillac covered with fist-sized diamonds, just like Gaia's artists do!

Must be the season of the witch!
I was in the mall the other day and noticed that the broom closet had turned into the annual Cheapo Halloween Shoppe. You know what that means: our big Halloween event is just over a month away. Time to invest in one of those countdown calendars with a little piece of chocolate for each day, so you'll be plump and well-fed for the ghoulish slaughter.
Keep an eye out for new storyline updates coming up very, very soon!

Roooooooad Triiiiipp!
There's nothing like a good old-fashioned road trip to inspire teenage hijinks and memorable buddy comedies. Gaia's still barreling through America on Kiki's Road Trip, and we hope to see you along the way!
We've added two new stops to Kiki's Road Trip:
Wizard World in Arlington, TX
and
Wizard World in Los Angeles, CA
. Be sure to check out the
Road Trip homepage
for more info!
If you're still not sure whether to visit us at one of our stops, please refer to the following comparison between Kiki's Road Trip and famous road trip movies of the past:
National Lampoon's Vacation: Sorry, we don't have any hot girls in convertibles following us. Luckily, we don't have Chevy Chase, either.

That one with Bill Murray and the elephant: What the heck was that movie called? If nothing else, we're definitely more memorable.

Fear & Loathing in Las Vegas: If we see any giant mutant lizards in hotel lounges, we're not hallucinating. That's just what anime conventions are like.

Rain Man: We've got less love for Wapner, but roughly the same amount of screaming and beating our fists against our heads.

The Straight Story: Remember this one? It's David Lynch' heartwarming story about an extremely old man traveling hundreds of miles on a riding lawnmower. Kiki's Road Trip is exactly like that.
See you soon!