[NPC] Cindy Donovinh
(?)Gaia Staff
Posted: Fri, 24 Aug 2007 04:17:48 +0000
Good evening, Gaians! This is Cindy Donovinh of Gaia 9 Action News, here with all the latest developments in the Gaia world. There's quite a bit happening this week, so let's turn it over to the admins for a recap:

COMING SOOOOOOON!
New items. New forum fun. New stuff in towns. New storyline updates. New EVERYTHING!
Our Summer Festival will be launching on
August 27th
, so set a few days aside for the biggest water balloon fight in the history of the Internet. Be sure to check the Daily Chance for water balloons, or get a bunch of 'em by
inviting a friend
. No friends? Don't worry! There will be plenty of balloons to go around when the Festival starts.
None shall be spared! All shall be dampened! Only four more days of dryness before your life of parched desiccation comes to a moist and sudden end!

Oh goodness, our site updates image still shows the old layout! Just use your imagination and pretend it's the new one!
The new Marketplace beta went live yesterday!
We've released a beta preview of our brand-new Marketplace! It's got more crazy features than you can shake a stick at (unless you happen to own a pretty fantastic stick), but all will be revealed and explained when the final version is released. Stay tuned for further Marketplace updates!
Meanwhile, we have definitely taken notice of the huge debate in the forums over the 2% listing fee. While we understand that people are upset at the idea of paying gold to use the new Marketplace, we've set up a thread to explain why we instated the fee and to answer some of the community's questions about it.
If you're concerned about the 2% listing fee, please check out
this thread
by Gaia's resident economist. He'll be looking around the forums and answering your questions about the new Marketplace and Gaia's economy, so be sure to drop by.

Kiki just can't wait to get on the road again, goin' places that she's never been! The life she loves is givin' prizes to her friends! This weekend, Kiki's Road Trip will be hitting up Fan Expo in Toronto. We'll be hosting Gaia Gatherings on Friday at 7:00PM and Sunday at 2:00PM in Room 713A.
Be there, Gaianadians, for we shall melt the frozen northern tundra with the warm glow of the Internet. Yes, I know it's going to be like 80 degrees there. Just humor me on this one.
As always, the Gaia Prize Patrol will be handing out prizes to anyone caught wearing Gaia stuff, so be sure to dress up!
You can find more info on Kiki's Road Trip and our Fan Expo jaunt
here
.

You've got about a week left to pick up August's Monthly Collectibles, so don't delay! Well, you can delay a little bit, but if you delay for more than a week you'll be left with nothing but
sorrow and regrets!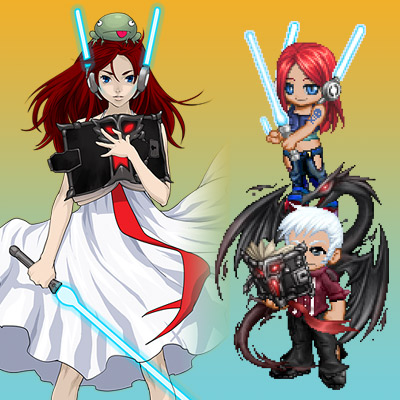 This month's items have proven to be some of the most popular Collectibles of the year, so don't miss 'em! Those who enjoy bright, shining objects will adore the
Plasma Gear
, which can be worn as visors or antennae or wielded like swords. Those who enjoy summoning terrifying dragons from ancient magical books will enjoy our
Summoning Tomes
, which allow you to summon terrifying dragons from ancient magical books (the very thing you enjoy, see?).
To get these Collectibles for your avatar or try them on in our Dressing Room, visit our Monthly Collectibles Page.

We put up some new stuff in the Gaia Cinemas!
First up, we've got the heartwarming and hilarious Charlie Chaplin classic
The Kid
. When everyone's favorite mini-mustached tramp somehow winds up with a baby, he has to balance his career in tramping with the rigors of raising a child. Don't miss this one! You'll laugh, you'll cry, you'll feel incredibly young because the child in the movie is probably mummified by now!
If you're ready for a bit of animated excitement after all the tearjerking trampiness, take a gander at two classic
Superman
cartoons. The Man of Steel beats up some giant birds and proves his superheroic worth in these gorgeous Fleischer animations.
Watch them now in the Gaia Cinemas!

New scamming scourge: fake login pages!
Be extra super careful these days when logging into Gaia Online. Lousy scammers have been setting up fake pages that look exactly like Gaia Online-- but when you log in, they steal your password!
If you seem to have logged out for no reason, check the URL in your browser's location bar before you enter your info. If you're anywhere but gaiaonline.com, don't put your password in! If anyone sends you a message telling you that Gaia has a new, faster server in another location, don't believe them! Report the PM, because it's just another jerk trying to steal your stuff.
Let's recap, shall we?
1. Always check your location before logging in; even if a site looks exactly like Gaia, never enter your username and password unless you're on the REAL gaiaonline.com!
2. If someone tells you that Gaia has a new server, or promises you gold or items for logging in someplace else, that person is a liar and a thief! Report 'em to the mods so we can squash their dirty little operation!
3. Be safe, stay cool, have an awesome summer! XOXO!

The Gaia Store has been updated with some brand-new foolishness:
Tentacle Arms!
While we've been using our primitive, apelike arms like a bunch of jerks, the squids of the world have been clutching their prey with their superior tentacles and laughing at us. Until now! For the first time, you can have tentacles of your very own. Equipped with suction cups and plenty of creepy greenness.
Ninja Masks!
There are three types of people in this world: people who are ninjas, people who want to become ninjas, and people who have just been chopped up by ninjas. We can't make you the first, and we certainly can't promise you won't become the third, but we can give you a little something to help you with the second. Entertain your stealthy fantasies with this high-quality ninja hood. It's the first step toward full-fledged ninjadom!
Check out the
Gaia Store
to get those things and lots of other cool stuff, like Gaia stationary, t-shirts, hats, plushies and plenty of
whatnot!

This… is… SPARTAAAAAUUUrrHGhhhh *cough*
I can never make it sound as cool as the guy in the movie.
We befuddled one and all by releasing the ultra-rare
Spartan Set
recently! You can get a few of the items at
Prize & Joy
for an absolutely
diabolical
amount of tickets. The rest of the items might just pop up at any time, if you keep an eye out...
wink
Ha! Look at us being mysterious! A lot of people wondered why we didn't announce these items. It's because we like surprises!