[NPC] Cindy Donovinh
(?)Gaia Staff
Posted: Fri, 27 Jul 2007 02:52:10 +0000

Good afternoon, Gaians! This is Cindy Donovinh reporting for Gaia 9 Action News. It's been another hectic week at Gaia's headquarters. Here's a quick recap of some recent events, straight from the Gaia admins:

The awesomeness of our members is what made Gaia as huge as it is today. We're always eager to pick your brains for your ideas of what would make Gaia better. We've set up a couple of surveys to learn a little bit more about your lives, what you think of Gaia, and where you think Gaia should go in the future.
First up, we want to make some new Gaia minigames soon, and we want to know what kind of stuff you'd like to see. Action? Adventure? Puzzle? None of the above? We've set up a thread where you can post your ideas and opinions:
Furthermore, we've set up a web survey that will help us learn a little bit more about who uses Gaia, what they like to do for fun, and what they think of the site. If you feel like throwing your two cents in, please do! We're always happy to hear from you.
Please note: in certain cases, this survey may ask you for your personal contact info.
We can give you our assurances that absolutely nothing shady will be done with this info; it will only be used to contact you if we want to follow up about the survey. If you'd prefer not to give out your info, we completely understand! We ain't mad atcha!

Some of you (meaning... all of you) undoubtedly noticed that the site was a bit glitchy in the past week. We did a bunch of updates on the basic infrastructure of the site, and our various tweaking and pinching and bullying of the site's code caused a bunch of goofy errors. We'd like to apologize for the inconvenience caused by all these bugs. We've working really hard to make sure it doesn't happen again, and you have our eternal gratitude for sticking by us in this time of trial!

We've recently heard reports of Gaia users getting scammed by phony browser add-ons/extensions. While there are definitely some great browser add-ons out there that do cool things and are perfectly safe, there are some people who have made malicious ones that can steal your password. Please be careful where you get your add-ons and extensions, and make sure you're downloading them from a site you trust. Be especially careful if a stranger sends you a message with a link to a browser add-on. They might be a scammer!

We recently made some changes to simplify the username colors of Gaia moderators, administrators and staff members.



To quickly recap: all moderators will now have

green

names, administrators will have orange names and site staff members will have dark brown names. These people will all have titles that appear under their username to tell you their role on the site.

As usual, regular members will have black usernames (with no special titles underneath) and people on your friends list will have blue names. Gaia NPC accounts used by the staff will have red names.



We're still making some tweaks and improvements to this system, but at this point it's about 80% complete. For more info, you can check out this thread.

Earlier this week, we replaced Gaia's Gift Credit system with Gaia Cash, which gets you much more bang for your buck: you can use it to buy Monthly Collectibles and items in Gaia's shops, and it's worth about three times more than Gift Credits were.
Along with it, we released another cool feature: the "redeem a PIN" system allows us to make stuff like Gaia gift cards and special promo cards that can be redeemed for Gaia Cash, Gold or items. Those of you who are attending ComicCon will see one of the first uses of this feature: VIZ Media will be giving out some Gaia Gold promo cards at their booth. Whee!

We hope you've had a chance to check out the winners of Gaia's first-ever Film Festival! We've posted 20 wonderful films made by Gaians like you: 11 awesome ones and 9 awful ones.
We've noticed that the awesome films have about twice the number of views as the awful ones, so we'd just like to advise you to
definitely check out the awful ones!
We put them in the awful category because they were entered as "awful" films during the submission process, but in many cases they're every bit as great and hilarious as the awesome films. Maybe even more so.
There's also a cool Gaia documentary, which contains interviews with Gaia's dreamy founders. A must-see for Lanzer fans!
Stay tuned! Next week, we'll be continuing the film festival with some great new stuff!

Things have been really busy at Gaia HQ, but we've been trying to put aside more time to chat with you guys. Lanzer, who's probably the busiest of anyone, has been setting aside some time every day to hang out with Gaians and answer some of their questions. He'll be making a Q&A thread each evening at around 6PM Pacific in the Gaia Community Discussion forum. We hope you'll stop by and say hi!
He's also set up a list of staff members' profiles and journals, so you can keep up with what some of Gaia's employees have been so busy with. You can check it out
right here
.

There are only a few days left to get July's Monthly Collectibles. After July 31st, they'll be gone from our shelves forever! This month, we have the
Mecha Form
, the
Enchanted Strings
and the
Fire Flower
: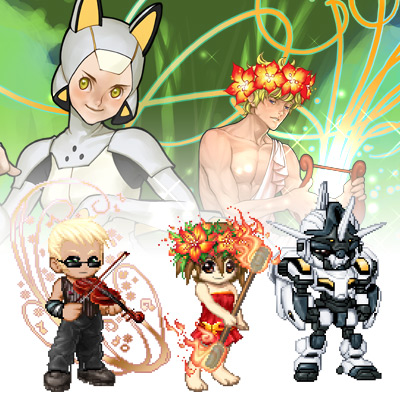 To get these items for your avatar or try them on in the Dressing Room, check out our Monthly Collectibles Page.