[NPC] Cindy Donovinh
(?)Gaia Staff
Posted: Tue, 18 Jul 2006 00:41:20 +0000
Hello!

Cindy Donovinh of Gaia 9 Action News here. smile

Welcome to the start of our newsletters section! This section will provide a brief look at the latest news to hit Gaia all in one neat package - similar to a digest.

If you got here by clicking on the new horn icon then that means the new icon alert is working!

It can be hard to notice when there's a new announcement to check out sometimes, so I suggested this idea to our editor-in-chief and he approved it (take that, Mike, you thought it wouldn't happen! ninja ) It should be easier to notice the latest news from now on because you should see the horn icon by your avatar whenever there's news to read.

And now, on to the first newsletter!
The donation items for July 2006 are here! Donate to support Gaia and you'll get to choose from the
Elegant Veil
and
Ancient Katana
!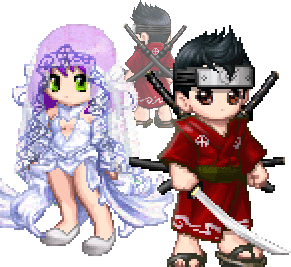 Click here to get these donation items!
And click here to preview these items!
heart
Thank you for the support!
The new game
Word Bump
is here!
You could win rare items and gold!
Just make words from letter tiles to bump the Golden Word to the top.
Click Here to Play!
Now you can customize your profile with
new drag-and-drop tools
. You don't need to know any CSS code, but of course, you can still use the old profiles system and use code if you want.
biggrin
There's dozens of decorations and backgrounds to liven up your profile with and we'll keep adding more!
Click here for more information
At last, the long awaited
casino items update
is here!
Head over to
Prize and Joy
to trade in your tickets for some new prizes like the
Gold Mountain Tie
for your avatar and
Gaia Poker Table
for your house!
Do you LOVE electronics? If so, then this update is for you.
Plasma TVs, speakers, and subwoofers
are now available for purchase with gold.
Click here to visit The Faktori to buy the new items
That's a wrap for this first newsletter. Stay tuned for our next one!
3nodding