[NPC] Cindy Donovinh
(?)Gaia Staff
Posted: Thu, 12 Jul 2007 02:33:41 +0000

Good evening, Gaians. This is Cindy Donovinh of Gaia 9 Action News, bringing you the latest updates from the Gaia team. It's been an eventful few weeks at the Gaia HQ, so let's turn it over to the admins for the latest news:

Gigya!
Yesterday, we added a snazzy little device that lets people show off their avatars and share links to their favorite forum threads all around the web. The Gigya interface lets you add stuff to your online profiles (MySpace, Facebook, etc) or your blog (Xanga, Livejournal) without ever leaving Gaia Online (because why would you want to leave Gaia?).
To share forum topics on other sites, just click the "Spread the word" link at the top of the page, next to the topic rating buttons. An interface will pop up which lets you automatically log in to other sites and stick a link to the thread in your various profiles and blogs.
To show off your Gaia avatar on other sites just, visit the
Avatar Exporter
and click on the "Export" tab. Then, click on the "http" code box to open up the Gigya Wildfire widget, which will let you log in to other sites and put up your avatar without ever leaving Gaia.
Just to clear up some rumors that have been floating around: this isn't an ad scheme or a sponsorship, and there's no money involved-- we just put in this feature because it's cool and convenient and it makes it easy to integrate Gaia with the rest of your online life. Gigya will never use your passwords or personal info for any shady purposes, or hijack your blog/profile/soul to post advertising.
We apologize for releasing this feature unannounced, but we needed to patch a couple of bugs before inviting the teeming masses to use the feature all at once. A bug was causing some users to get pop-up windows from this feature, but that's been fixed now. Enjoy!
Please note that Gaia will not store your usernames and passwords to other sites. There is an option to allow Gigya to remember your username and password when you use the feature so that you don't have to enter them every time you use it. If you'd rather not have your information stored, feel free to click the "No, thanks" button when Gigya asks if you'd like to store your login info. Please be careful not to store your login info if you're using a public computer.
Wait! Before you go, a couple more things:
As we announced earlier, the color coding for staff usernames will change soon, making it easier to figure out who to contact if you need help. For more info on the upcoming changes, check out this thread. You can also join in on some discussions of this topic in the Questions & Assistance, Gaia Community Discussion and Site Feedback forums.

Good news for those who want to pay for Monthly Collectibles by phone: our phone payment system now works for Bell South customers. We're working on setting up deals with even more phone carriers, so don't weep in hopeless despair if Gaia still doesn't support your phone service.

We had a great time at Anime Expo, mingling with our Gaian pals and twistin' the night away at the Gaia Dance. If you didn't make it to AX, you've got a few more chances to hang out with us this summer, so we hope to see you soon!
We've thrown together a short video that shows some highlights from our visit to Long Beach. You can check out the clip here.
In other news, our
Convention Info Page
has been updated with some new stuff. We've added the dates and times for our upcoming visit to Otakon, and we've added a new stop to Kiki's
Road Trip
: Sakura Con 2008 in Seattle, WA. See you there!

Let's turn things over to Cindy Donovinh again with a quick update on recent happenings in the Gaia world:
Many Gaians have reported receiving mysterious messages from prominent Gaian characters recently-- rumor has it that Edmund, shopkeeper and associate of Johnny Gambino, has been requesting contributions for some manner of secret project. In a bizarre twist, the Von Helson sisters, long thought to have died in the collapse of the Tower of Gambino, are rumored to be alive and well.

Action News has no further information about these strange events, but we'll keep you posted as new details emerge.
Thanks, Cindy!

To those of you who would dare suggest that Gaia's admins don't love you more than life itself, check this out: our artists and developers worked their poor fingers to the bone this month to bring you TWO gigantic item updates.
First, they put in a few intense weeks of testing, tweaking and bug-fixing to bring the
Tattoo System
to completion. After so many long months of waiting, it's finally here! Go give a holler to Devin and Natasha at
Skin Tyte
to get all tattooed up like a terrifying hairy biker. There are tons of tattoos to choose from in plenty of colors, so you'll be sure to find something that suits your taste (or tastes your suit).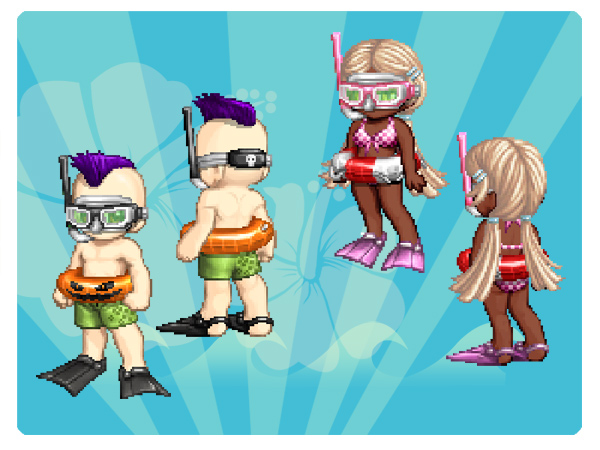 And as if that weren't enough, they also released the
Swimwear Set
, which allows you to celebrate Gaian summer with swimsuits, masks, flippers, inner tubes and more. You can find these items at
Barton Boutique
,
Gambino Outfitters
and
Durem Depot
.

By the by, did you notice this sweet little guy that we just added to the GStore? Those of you who were around last Christmas no doubt remember the Water Meat, one of our most popular event items ever. This little fish/seal/miscellaneous creature was the invention of UFO 2, everyone's favorite slow-witted alien Santa. Now the Water Meat can be yours in plushie form!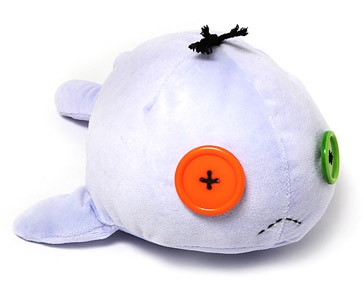 Check out that adorable thing. He's got button eyes, a stitched mouth, and a beanbag sewn inside for increased floppiness. You can pick one up now in the
Gaia Store
.

The July Monthly Collectibles come out in only four days, and I'm as antsy as a crawdad in a stewpot! In a good way. There will be three of 'em this time around, and each and every one is ill enough to please even the hatingest of haters. Word is bond, son.
If you'd like to crack your skull against some hints, be sure to check out
this recent thread by Ron Bruise
. People are coming up with all sorts of crazy wrong guesses already, so feel free to join in the fun.
And this concludes our super-long newsletter. Nighty night, Gaians!