[NPC] Cindy Donovinh
(?)Gaia Staff
Posted: Fri, 13 Apr 2007 23:18:29 +0000

Good afternoon, Gaians. This is Cindy Donovinh of Gaia 9 Action News, bringing you the latest developments from the Gaia world. As usual, things have been busy behind the scenes! We now turn to Gaia's admins for this week's news and announcements:

There's been quite a bit of debate over the recent changes in registering new usernames. Lanzer recently made an announcement in the
Site Feedback
Forum which answers some common questions about the change:
Lanzer
Hi everybody,
There's been a lot of concern and confusion over the recent change in the way usernames are handled for new accounts, so I'd like to clear it up as much as possible.
From now on, new usernames will only be able to contain letters, numbers, and hyphens. These changes only apply to people who are registering new accounts or changing their existing usernames.
We know that your Gaia usernames are very dear to you, and that they're a part of your personality on the site, so any decisions about this are very difficult. For the foreseeable future, people who already have spaces or special characters in their usernames will
not
have to change their usernames. If there ever comes a time when we require people to change their names to fit the new system (it's still under consideration whether or not it will be totally optional), we'll give ample warning in advance, and we certainly won't charge any gold for name changes.
There are a whole lot of reasons why we're making this change to new usernames. There are major security concerns and technical issues that come from having special characters in usernames, and it also puts a huge limit on the kind of features we can have on the site.
To put it simply, our old usernames just aren't compatible with the rest of the internet. While we can't promise that we'll make these features available any time soon, changing our username system will allow us to make subdomains (like having
http://yourname.gaiaonline.com/
go to your profile), e-mail addresses, instant messaging, and much more. Again, we might not create these features any time soon (or promise on making any of them), but limiting the special characters in new usernames will make a lot of things possible in the long run.
We apologize for not making this clearer in the beginning. We're still working out exactly how to proceed with this new username structure, and your feedback is very important to us, as always.
-Lanzer
We hope this makes things a little bit clearer.
Update: Lanzer made an addition to his original post, stating that spaces will be available in usernames:
Quote:
We will be able to have spaces in usernames. Strange as it might sound, it actually requires a lot of planning and work to have spaces yet have a system that is safe and compatible. We're working on it now and I'll keep everyone updated on the progress by next week. Thank you for all your feedback everyone.
Hey! And another thing! Amid the flurry of activity surrounding our
ONE BILLIONTH POST
(yowza!), another debate has arisen: some people believe that we've already reached one billion posts, as evidenced by the "post IDs" that show up when you link to a specific post, but some people believe that we haven't reached one billion posts, because the total number of posts listed on the main forum page is, as of this writing, less than one billion.
Here's the real scoop: Several months ago, we changed the way the posts are counted in the "post IDs" due to some server reconfiguration; this number now increases by "2" instead of by "1" whenever a new post is added. Therefore, this number is much higher than the actual number of posts on the forums.
The number at the bottom of the forums is the correct number of posts.
When that reaches one billion, it's time to break out the champagne (if you're over 21, and nerdy enough to celebrate the statistics of a website)!

Only a couple of days until the15th! The April 2007 Monthly Collectibles are nearly upon us, and I give you my word of honor that they're going to be extra awesome.
First of all, there are three of 'em. Yeah, you heard me. April's letter contains a delicious selection of three different items!
We're excited to finally release two of these items, since they're things that Gaians have been requesting for quite a while. We hope you like them as much as you thought you would!
The third item is unlike anything we've released before. It'll change the way you look at Gaia. Remember that I said that, because when the item comes out, you'll say "hey, the newsletter was right."

After the dude-friendly GStore update last time around, we've decided to make this update much more geared toward the ladies. We've released four cute new baby-tees, and two varieties of Gaia Boyshorts (which, despite having the word "boy" in their name, are actually for girls).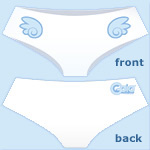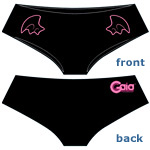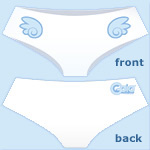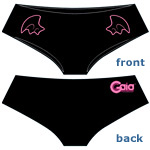 Boyshorts to fit every mood, as long as the only moods you have are "nice" and "naughty." But aren't all the other moods just filler?
And check out some of these foxy new shirts! You can click their names for a large image.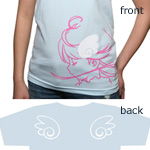 Angelic Tee:
Stay calm in time of adversity with this graceful Angelic shirt.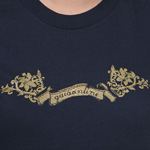 Gold Ribbon Tee:
A cute antique style with a shiny ribbon and an elegant floral pattern.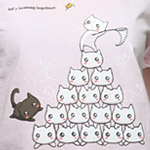 Teamwork Tee:
Aww, look at the KiKi Kitties teaming up to catch a butterfly! And aww, look at sweet little CoCo Kitty coming to knock 'em down!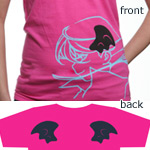 Nitemare Tee:
Flaunt your sass with a this devilish design.
To peruse all these cool new items, head to the
Clothing
section of the
GStore.

Since I'm always looking for new ways to amuse you (and new ways to annoy everyone around me), I spent a few minutes this afternoon bugging my fellow employees! I asked a bunch of Gaia's fantastic artists to name their all-time favorite Gaia items. Behold the results, squire:
"You know what my favorite item is?" says L0cke menacingly. "The one where I punch you in the face!" After a brief scuffle and a few broken teeth, he admits that he's especially fond of the Tentacle Set. He says it's because it's "different," but we know it's just because he's a huge pervert.

"Even though I'm not wearing him right now, I really like Gwee," says Ling. "I just like all the poses that come with him. He looks very cuddly, but at the same time, very fierce... if that's even possible for a baby dragon."

Ace illustrator Sukinahito is incredibly satisfied with his own creations. "I like the blue bunny shirt, because I made it," he says. "I also like t he ORLY Hat... because I made it."

ethe is quite fond of our mischievous little plushie friend, CoCo Kitty. "I named mine Bubble!"

Alien sympathizer superphi loves the Water Meat, "just cause it's cute!"

Prolific pixel artist Juno holds a special place in her heart for the Winter Rose. "It was fun to work on, and I like pretty things. The members liked it, too, which always makes me feel better."

pepper-tea and reapersun, two of the newest additions to the art team, were a little shy with their choices. "I like the dancer bottom," quoth reapersun. After much badgering, she admitted why: "because it's... awesome." Pepper Tea likes the Baby Falcon pose of the recent Spirit Falcon collectible because she got to help create it.

User interface designer Brunosmad, who could easily crush a man's skull with his bare hands, has predictably masculine tastes: "I like the Pirate set, because it most closely resembles my everyday wear." He's not joking, either.

"My favorite item is the Emo Glasses," says CP with a tear in his eye and a quiver in his voice. "I've just been wearing them so long, Ive become attached to them."

What? ANOTHER message from the admins? Jeez, those admins just don't know when to shut their traps. Anyway, check it out:
Getting scammed out of your password is one of the most disastrous and aggravating things that can happen on Gaia Online, and we're always looking for new ways to remind members to keep their passwords secure.
One of our anti-scam features is a warning bar that lets you know when you've followed an off-site link. You've probably seen it pop up many times after following links from the Gaia forums. Here's what it looks like:

It's easy to ignore this message, since you've seen it so many times, but please don't let your guard down! Lots of unscrupulous scammers post links to sites that will ask you for your username and password.
Remember: if you see the warning message at the top of your page, think twice! Somebody might be trying to scam you!
Does this mean that every single page with the warning bar at the top is a scam site? Certainly not. Does this mean it's okay to give people your password when you
don't
see that message? A thousand times no!
Anyone who asks for your Gaia password anywhere is a scammer.
No matter how "official" a site looks, please keep your wits about you and never give your password to anyone!