[NPC] Cindy Donovinh
(?)Gaia Staff
Posted: Fri, 06 Apr 2007 01:08:22 +0000

Good afternoon, Gaians. This is Cindy Donovinh of Gaia 9 Action News, bringing you the latest updates from the Gaia admin team. It's been a while since we've had a newsletter, so there's we have a lot of exciting info to share. We'll now turn it over to the admins:

Gaia's Easter celebration starts tomorrow!
The festivities will last all weekend, so make sure you set some time aside to visit Gaia, have some fun, and get some cool one-time-only
Easter items
(yeah, we know-- your eyes glaze over until you see the word "items," then you perk right up!).
We hope you enjoyed our recent St. Patrick's Day mini-event! We were thrilled to see so many people dressing in green, hunting for clovers, and getting into the holiday spirit.
So, how'd you like our April Fool's gag? Did we trick you, or did you see it coming a mile away? Oh, come on, quit lying. We totally got you. You nearly cried with joy when you saw that Platinum Halo, and then we cruelly ripped it from your hands like the despicable, joyless old vultures that we are. And then, to add injury to insult, we
blew up your faces!
We're not even a little bit sorry, and we'd do it again in a heartbeat. We hope you enjoyed it!
Those of you who didn't log in on April 1st have no idea what I'm talking about, so allow me to recap: we taunted everyone with fake giftboxes containing phony rare items, but those who tried to equip the fabled "Platinum Halo" got a face full of BOOM instead.

We've just released a new of items inspired by ancient Egypt! Gaia's artists have created some wonderful new stuff, including Egyptian wigs, an ornate crook & flail, golden jewelry, and elegant linen clothing.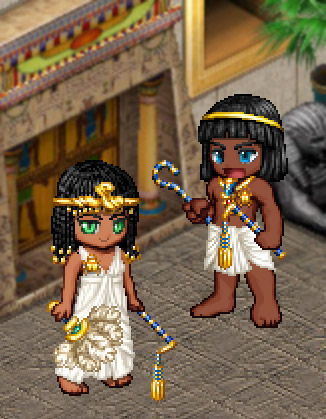 Behold, the fashions of the pharaohs!
You can find the new stuff at
Barton Jewelers
,
Gambino Hat Rack
,
H.R. Wesley
and
Gambino Outfitters
.

New stuff ahoy!
Remember when we released a new
Mobile Downloads
section, which let you get customized Gaia wallpapers for your mobile phone featuring Gaia artwork and your own avatar? That was fun, huh?
Well, we've recently added some
cool new mobile wallpapers
, so you can spice up that boring ol' phone of yours with some snappy new Gaianess.
We've also added a new limited-edition April 2007
Collectible Wallpaper
. When you buy a Gaia Monthly Collectible with your mobile phone, you'll get a beautiful exclusive mobile wallpaper to sweeten the deal.
Check out the
Mobile Downloads
store for the full skinny. To purchase a Monthly Collectible by mobile phone and get an exclusive limited-edition wallpaper, head to the
Collectible Store.

Item Arranger:
We completely redid our
Item Arranger
last week, and it seems to be a big hit. We noticed that some people were upset that the item thumbnails were too small, and preferred the old style larger-icon format. If you're one of those people, please dig the following jive: you can click the "Icon" button on the top left corner of the arranger to switch to a classic icon view.
Now that you know that, we hope you'll agree that
everything about the new item arranger is awesome.
Here's a list of its revamped features:
Larger windows: see more stuff!

Icon and detail view: choose from a detailed list that shows the item's name, value and item type, or view your items by their icons.

Sort by name, value, or type: you can view your inventory in alphabetical order, by equip type, or even by its gold value.

Search: find your items easily with the search bar.

Tabbed interface: use a convenient tab system to view only your game items or housing items, only your avatar items, or all items at once.

Easy item sellback: you can sell your items back to the stores quickly and easily.

Auto-save: your changes will be saved automatically, so you won't lose your work if you accidentally drop your computer in a bottomless pit whilst arranging your items (don't jump in after it; it's a rookie mistake).
Registration System:
This probably won't affect you since, if you're reading this, you're already a member of the site (probably). But we'll tell you anyway: we've extensively rewiggled our registration system. It's prettier! It's cooler! It's simpler! It's less confusing!
If, heaven forbid, you should ever send a stranger your password and lose your Gaia account, take comfort in the fact that reregistering will be a lot cooler than before.
I know, I know: I shouldn't even
joke
about such a terrible, serious, heart-breaking thing. But, all joking aside, the new registration process is great, so please give our hard-working developers a round of applause. Or a round of tomatoes, if you hate it (which you won't).

Hey, want to hang out with the unbelievably attractive Gaia staff, meet your fellow Gaia members, participate in exciting Gaia events, win cool Gaia prizes and maybe use the word "Gaia" a whole bunch of times in one sentence? We've got a crazy hunch that you probably do.
This summer, we're going to be hitting up a bunch of the coolest conventions, and we mean business! We've got tons of great stuff planned, including previews of some hotly anticipated Gaia features.
We've set up a brand new Convention Homepage and Convention Forum
, which will be updated with new info as the convention season approaches.
We hope to see each and every one of you there! If we don't see you, we may be personally insulted by your absence. Do you really want to risk it?
Visit our
Convention Homepage
for all the latest info.
Conventions We're Attending in 2007:
Fanime
Anime Expo
Otakon
Comic-Con
Conventions We're NOT Attending in 2007:
Louisiana Urinalysis Fanfest
TuberculosisCon
Official Golden Girls BlancheCon 2k7
BARFJAM '07 (maybe we'll make it in '08!)