[NPC] Cindy Donovinh
(?)Gaia Staff
Posted: Mon, 26 Feb 2007 22:08:55 +0000

Good afternoon, Gaians. This is Cindy Donovinh of Gaia 9 Action News, bringing you the latest updates from the Gaia admin team. It's been a while since we've had a newsletter, so there's a lot of ground to cover. Here are the admins with some important bulletins:
--------------------------------------------------------

February is the puniest runt of a month, and we owe it our pity. While other months have 30 or 31 days, February weighs in at a pathetic 28 (or 29, when it's lucky). It contains only the flimsiest of holidays-- Groundhog Day? Ha! Valentine's Day? Yuck! Presidents' Day?
Who!?
But what does this mean for
you,
the common Gaian? It means
you've only got a few days left to get February's Monthly Collectibles!
"Ah, I'll just wait 'til the 31st," you might say; guess what, buster? There is no 31st, and there's never gonna be one! Time is running out!
In case the mind-melting excitement of the Gaia Anniversary has made you forget what this month's Collectibles are, allow us to refresh your memory:
Quote: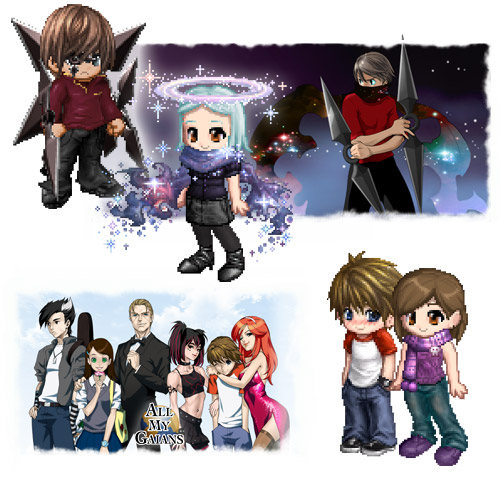 Do you ever stare up at that majestical roof fretted with golden fire and think "hey, I want one"? Well, now we offer the
Celestial Wrap,
a gorgeous set of items inspired by the limitless night sky.
The
Dark Star
shuriken is a fearsome instrument of combat when held in the right hands. In the wrong hands, however, it's a recipe for an extremely painful disaster.
Oh my goodness, you've won a date with one of Gaia's hottest celebrities! The
Celebrity Date
lets you spend a day (or a lifetime) with one of the stars of All My Gaians, the hottest soap opera on television.
Click here
to grab one of these items while you still can.

Despite it's puny, scrawny, good-for-nothingness, February brought us TWO small Gaia events. First, we had a gleefully saucy Valentine's Day kissing event, where you could make your avatar swap some pixelated spit (eew?) with all your friends. Those who kissed generously received a V-day reward: the heart-shaped Labu Necklace. You can still find 'em in the marketplace if you missed the event.
Just this weekend, we celebrated Gaia's 4th anniversary! We had a
heartfelt speech from Lanzer
, a special anniversary event forum, and a brain-tickling quiz about Gaia's past plot and events. We hope you got to participate! If you didn't make it to this year's anniversary ball, we'd like to cordially invite you to next year's 5th Anniversary Ball, which is sure to be even more magnificent.
Stay tuned-- we're already putting together more events for the upcoming year, and we hope to make them bigger and more fun than ever before.

The GStore has had some big updates lately! Since we're always concerned with the safety of our members, we have released some attractive new long-sleeved options to prevent you from perishing of exposure on those long, frostbitten February nights (Argh... February, my old nemesis). We've also added two beanies to keep your noggin warm. Here's a lovely image featuring several of our new items, some attractive people, and kittens (what more could you want!?):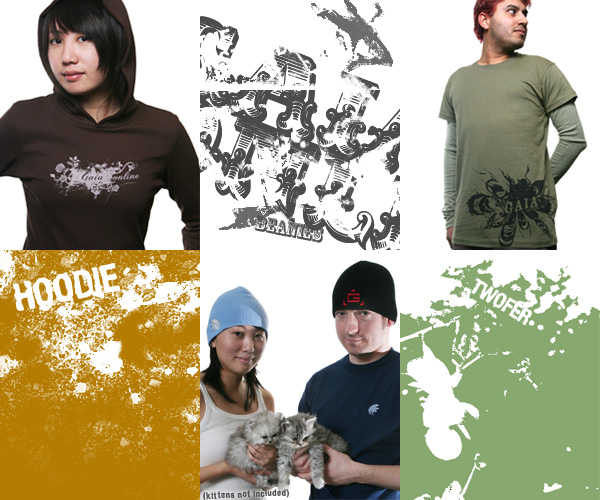 We've also created a special Gaia 4th Anniversary t-shirt, featuring tons of your favorite Gaia NPCs. We offer this shirt as a memento of yet another wonderful year of Gaia Online, and we hope you'll wear it proudly! It's limited-edition, so they won't be here for long.
Check out the GStore
for these any many other Gaia accessories.

Word Bump has been updated to version 1.0! It now gives out 2 to 3 times the amount of gold as before, and you'll score much better items on bonus levels. Whoo hoo! Go tickle your brain with some word-bumpin'. NOW!

During our 4th Anniversary Event, we unveiled the brand-new Gaia Newsroom. Now you'll be able to see the entire Gaia storyline in one convenient place. You can read our plot manga archive, check out every Weekly Comic, and read recaps of every plot event, written by Gaia's own Cindy Donovinh.

Purchasing Collectibles and GStore items with is now easier than ever: you can now make credit card purchases without a PayPal account! You can still make your purchases through PayPal if you have a PayPal account, but you're no longer required to start one in order to buy stuff with your credit card. How convenient!
That's it for this week's newsletter, Gaians! Happy 4th anniversary! Let's make this Gaia's greatest year yet!