[NPC] Cindy Donovinh
(?)Gaia Staff
Posted: Mon, 05 Feb 2007 20:06:54 +0000

Good afternoon, Gaians. This is Cindy Donovinh reporting for Gaia 9 Action News. There's been a flurry of activity at Gaia Headquarters, and I'll now turn you to the admins for a recap of the week's events.
----------------------------------------------------
Thanks, Cindy! Say, I've got a coupon for a free meal at this lobster place downtown, and I was wondering if... uhh... never mind.

The developers have been staying in late and burning the midnight oil lately, which set off the sprinkler system several times and destroyed a few priceless Vermeer paintings that someone left lying around (where did they even get those things!?). But despite the defacement of our cultural heritage, the irrepressible scamps on the dev staff have accomplished a lot this week. Go team!
The housing system has been recombobulated! No, that's not a real word, but I'll tell you what is a real word: awesome. It used to be pretty difficult to set up a house on Gaia, but those days are over. The Housing Commission has been rewritten from the ground up to make it much simpler to build, place, move, upgrade and decorate your home. Better yet, Gaia Towns can now grow in order to keep up with the demand for housing. That means that everyone can have a home of their own!

Visit the Aekea Housing Commission to set up a house.

Gaia's front page has been redesigned. Those who fear the unfamiliar had a difficult and terrifying week as they were faced with a strange new front page! You've probably noticed that everything on the "Log In" page looks entirely different (and much, much better): we now see two smiling youths, an event banner, and a big, happy, irresistible "Join Now" button. It's hypnotic! I can't help clicking on it!

Here, hair here! Grab the nearest sharp object and sloppily hack all the fur from your heads, Gaians, because the long-awaited Salon update is finally upon us. We've added five new styles:
Rainy, Ringlets, Upsweep, Bedhead,
and
French Braid.
Go try them on at
Salon Durem.

The GStore has been updated
with an adorable plushie keychain!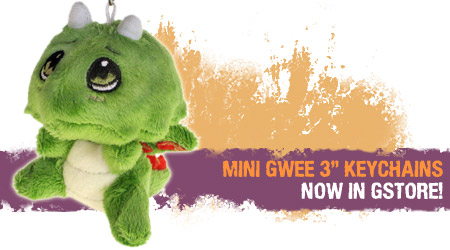 Dampen the ear-shattering jingle of your keys with this soft, squishy, and menacingly cute Gwee Keychain. Head over to the
GStore
for this and many other fine and fancy items.