[NPC] Cindy Donovinh
(?)Gaia Staff
Posted: Fri, 17 Nov 2006 20:07:15 +0000

Hello, Gaians. This is Cindy Donovinh reporting for Gaia 9 Action News. It's been a busy week for Gaia. A new Quest System has been added, new Monthly Collectibles have been released, and we're conducting another member survey. We turn you now to the admins, who will give you the latest updates:
--------

November's Collectibles are here! This month, we're proud to offer the cute and functional Momo and the stylish Mini UFO. Momo is a jittery little chap who hangs from your arm, clings to your head, or protects you from harm with a variety of classic monkey poses.
The Mini UFO is an amazing little gadget with multiple uses. It can be worn as a hat, it can scan you with an alien beam, or you can hop inside and scoot around like a maniac!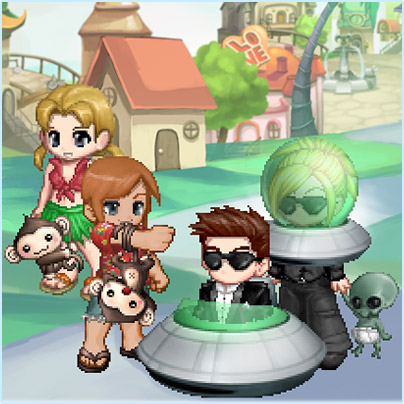 By the way, we'll be releasing the final feature of the Mini UFO soon. Gaian engineers have stolen secret alien technology that adds strange new functionality to the UFO. It will be able to do something that no other collectible item has ever done before. Check the announcements soon for an update...

We've added some awesome new features to the site this week!
The Quest System has been released!

...And promptly taken back down sad Unfortunately, the massive popularity of the Quest System was causing everybody to run around screaming and getting all tangled up in each other and falling down in twitching heaps. As much as we love twitching heaps, all of this craziness managed to slow the site to a crawl, so we have to work some kinks out of the system before we put it back up. But it's gonna be COOL!

In case you missed it while it was up, it allows us to make fun new ways to earn gold and items by completing tasks around the site. We've only released one quest so far, but eventually we hope to have gigantic, immeasurable pants-loads of quests. But for now we just have one little task to help new users get a feel for the site. Here are some handy links:



This link takes you directly to the Quests page. It's down as I'm writing this, but maybe you're reading this sometime in the future and it's been put up again. I wonder if I have a beard in the future...

This magical blue link zaps you instantly into the Frequently Asked Questions thread for the Quest System. If you have a question or concern about Quests, this thread has some answers for you.



It'll be back up soon! And if you're in the future, maybe it's already back up! And maybe you have a flying car!

We've made a small but really great change in Towns. The speech-bubble code has been rewritten to make it so people's chat bubbles don't crowd all over each other. Now your deep, intellectual conversations about catching bugs and shaking trees will be presented in a much more sophisticated format. Magnifique!


As you may know, we held a small survey last week to let Gaians share their opinions about what they like and dislike about Gaia. We were thrilled with the responses we got, and we would love to talk a little more with Gaia's members. This time, we're interested in meeting some people in person so we can chat about the site and find new ways to improve it.
If you live in the Alexandria, VA area or the San Jose, CA area and would like to be a part of our discussion, please visit the form linked below. Members who are under 18 will need their parents' permission to attend!
http://www.ampagency.com/survey/061116/index.html
Please be aware that this form does ask for personal info, so if you don't want to fill it out, it won't hurt our feelings.
3nodding
If you are chosen to participate, you will get a phone call from us with all the details and, if you're under 18, to get your parents' permission.

Okay, everybody, it's time to start freaking out. Or, if you were already freaking out, it's definitely
not
time to
stop
freaking out. The Zurg, our intergalactic friends (or foes?) have decided to land their UFOs at the Great Wall of Gambino.
Wait, why are we still calling them UFOs? They're not unidentified anymore! We know what they are: they're Zurg spaceships. So we can just call them FOs from now on. Except that they're not flying; they've landed. Okay, so we can call them
O's
. Are you satisfied now!?
So anyway, these Zurg-O's have plopped their fat silver spaceship butts down on our world map, and
WE WANT ANSWERS!
What are they doing here? Why have they disrupted our happy home? Did they bring us presents?
We now return you to intrepid reporter Cindy Donovinh, who seeks to answer these questions and many more...